The Bender JCC is proud to offer adults and students of all ages meaningful exhibits revolving around the Jewish experience, identity, and culture in a beautiful, warm, and welcoming gallery space. The Goldman Art Gallery is open when the Bender JCC building is open and may be used as a beautiful backdrop for program space.
Virtual Galleries
---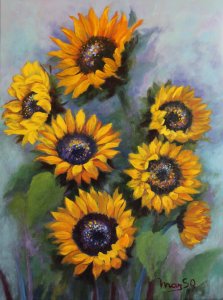 Celebrating Color and Light
Maryland Art Association Artists Showcase
The World Around Us
Exhibit through December 31
The Bender JCC is proud to partner with the Montgomery Art Association (MAA) for the second year to present "CELEBRATING COLOR AND LIGHT: Maryland Art Association Artists Showcase The World Around Us."
It is almost impossible not to feel inner excitement when we view bright and colorful images that capture an emotion or experience. This year, members of the Montgomery Art Association were asked to create their vision of how color and light are reflected onto surfaces of paper, canvas, and wood to celebrate the people, places, and events of the world around us. 49 vibrant pieces of original art, ranging from smaller hangings to larger wall sizes have been selected to showcase experiences, personalities, and emotions. A full range of materials on display expressed through oils, watercolors, acrylics, alcohol ink, mixed media, and photography.
Each of these works are available for purchase, plus Maryland sales tax, at affordable pricing. This is a wonderful opportunity for the community to purchase that special gift for someone who brings color and light into your life.
About MAA: Since 1954 the Montgomery Art Association has supported the visual arts, artists in Montgomery County and the DC region. The nonprofit has more than 330 members providing show and business of art learning opportunities, plus annual scholarships to Montgomery College art students. To learn more and view the artwork in this show, please visit montgomeryart.org/gifted.
To purchase, please contact Marcie Blackman at 301.348.3808 or mblackman@benderjccgw.org.