Connecting our community to the people, history, culture, and land of Israel remains a core value of the Bender JCC. From lectures and dance to film, music, and art, the Center offers exciting, innovative ways to learn about Israel—past, present, and future.
Drink + Think Discussion Series
The Drink + Think Discussion Series presents provocative speakers and topics in local bars and tasting rooms. Join us for a drink and engage in moderated discussions with the Israeli artists, activists, and experts across a variety of disciplines that are making it all happen.
---
Click Here for Programs

Programs include the Center's annual free Israel Fest, Israel-centric holiday celebrations and commemorative events, free lunch & learns, and much more.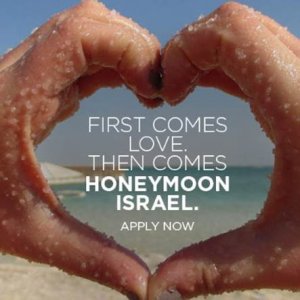 Honeymoon in Israel – Washington DC
Applications Open May 15- June 28
Honeymoon Israel provides trips to Israel for couples with at least one Jewish partner. Spend nine exhilarating, romantic and memorable days exploring Israel
in luxury with the one you love, and 19 other couples from your city. You will return home with a new community and friends who feel like family.
Click Here for more information
Kibbutz Ulpan Programs
EIN HASHOFET SUMMER SESSION in ISRAEL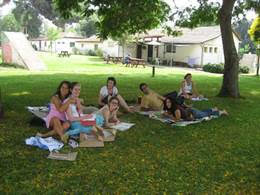 Target Age Group: Ages 17 and older
Dates
Arrival | June 4
Program runs | June 6 – November 11, 2018
Click here for more information Ulpan Programs or contact Gal Naor at: 301-348-3849 or via email at: gnaor@benderjccgw.org
Summer Ulpan in Israel
The Summer Kibbutz Ulpan in Kibbutz Mishmar Hasharon is a 4-week educational program for participants in the ages of 17 and above
Click here to learn more about this Summer Ulpan Program or contact Gal Naor at: 301-348-3849 or via email at: gnaor@benderjccgw.org
10 Facts about the Holiday of Shavuot
The word Shavuot means "weeks" in Hebrew

Shavuot starts on 6

th

of Sivan

The holiday is also called "Matan Torah" or "giving of the Torah". Because of the believe That this was the time of the revelation of Sinai, During the revelation G-d was revealed to the children of Israel , gave them the 10 commandments, and made a covenant with them when he chose them to be his people. The Israelites became a nation.

It's an ancient agricultural holiday, It's the time of the grain harvest, specifically of the wheat, in the Land of Israel.

It's second of the "Shalosh Regalim" or Three Pilgrimage Holidays (the others are Sukkot and Passover).
On Shavuot it's customary:
To read the Book of Ruth

To eat dairy foods such as cheesecake, cheese blintzes, cheese kreplach and more…

To have an All-night Torah study- it's a practice of staying up all Shavuot night to study Torah

Starting from the beginning of the new settlement in Israel, most of the "Kibbutzim" and "Moshavim" conduct ceremonies to celebrate the end of the harvest. In these ceremonies, participants perform a festive performance with songs, dances and a procession of decorated agricultural tools.

and elementary schools throughout the country also celebrate Shavuot. The day before the holiday the children are asked to come with white shirts and "Tene" (a basket with seasonal fruits) and various events are held for the holiday.

IAC National Conference
November 29 – December 2, 2018
For the first time, we are taking our signature annual event to South Florida, the heart of one of the most dynamic Israeli & Jewish American communities in the country!
Come together with thousands of thought leaders, community members, nonprofit professionals, influencers, students, entrepreneurs and policymakers for a once-in-a-year experience.
Kol Ami – Jewish Peoplehood Leadership Academy
Kol Ami is a six-month post-high school program — from September to February — designed to enable students with the opportunity to live in a Jewish pluralistic environment together with their Israeli counterparts. This program is best for those who want to learn more about themselves and how they can better impact the Jewish communities around the world.
With the understanding that Israel is an integral part of the world Jewish tapestry, Kol Ami will create a social network aspiring to excellence and which takes responsibility for impacting the future of the Jewish people.
During the six months of personal growth and development students will:
Gain leadership skills
Explore the land of Israel
Volunteer in the local community
Build physical endurance and navigation skills – the same skills Israelis learn to prepare for service in the IDF
For more information, contact Harrel Fenigstein at: marketing@kolami.org.il or +972-52-613-0366.
Hebrew Word of the Month