AQUATICS
The Bender JCC Herman Aquatic Center offers an array of classes and lessons for all ages including Group Swim Lessons, parent/child classes including Waterbabies and Watertots, Private & Semi-Private Swim Lessons, Pre-Team, Swim Club, Masters Swim Club, as well as the Isadore and Bertha Gudelsky Exceptional Swim Program for children, teens and adults with orthopedic-related disabilities.
Swim Classes & Lessons
The Bender JCC of Greater Washington offers swim classes, swim lessons, and swim clubs for all ages and skill levels. Learn to swim, refine your strokes, or build endurance—it's all possible at the Bender JCC.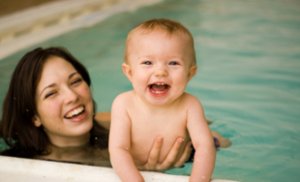 Water Babies and Tots
Our Water Babies and Water Tots classes introduce children with their parents in the pool to the water. Using verbal cues and body language your child will be introduced to basic swim skills including back float, kicking, blowing bubbles and reaching all with assistance from the parent. Ages 6 months to 3 years.
Register for Water Babies and Tots
---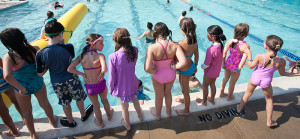 Swim Classes
Our swim classes introduce children of all ages to the water, helps new swimmers become adjusted and teaches fundamental swim skills and strokes.
---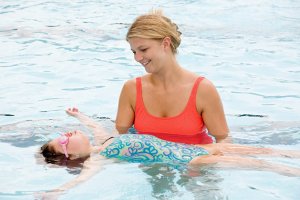 Private & Semi-Private Lessons
Private, one-on-one swim lessons are now available with adjustments due to Covid-19. Stroke technique, conditioning, and drills are among just the many things that be worked on during Private Swim Lessons. These lessons are most suitable for the Intermediate to Advanced swimmers of all ages.
Personalized, one-on-one attention from a friendly, qualified instructor makes the learning process quick, easy and fun. Any weaknesses can be worked on for longer periods of time and strengths can be built upon.
Private (one student per instructor) or semi-private lessons (two students per instructor) are available in 30-minute increments. Schedule based on instructor availability. Available to Bender JCC members only. To schedule lessons or for more information, contact Caroline Cardullo, Aquatics Director at 301-348-3890.
---
Weekend Clinics
Offered by the Capitol Sea Devils, for 7-12 year olds, 8 month program Sept-Apr; This level is designed to introduce novice swimmers into the sport of swimming while allowing maximum opportunity to participate in other activities. Swimmers should be able to swim the length of the pool unassisted using both freestyle with side breathing and backstroke. Emphasis is on teaching the fundamentals of the four competitive strokes by means of drills and various teaching aids with the goal of making swimming fun and a life long sport. No USA Swimming meets offered, but there are 2-3 intra-squad meets every season. For more information visit https://seadevils.org/swim-programs/clinic-programs
---
Free to members, the Bender JCC's aquatic group fitness classes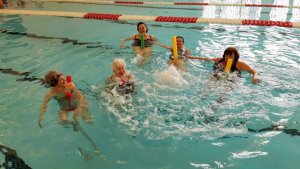 – including Aqua Zumba, Flex & Stretch and Aerobics —are low-impact total body workouts ideal for all ages.  Currently not offered but we are looking forward to offering them again soon.
---
Pool Safety
Herman Aquatic Center Indoor Pool
Indoor Pool Schedule
25 yards long
3'-10' deep
6 lanes
Meets ADA requirements
Staffed by certified lifeguards at all times
Outdoor Pool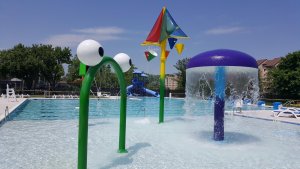 Double flume slides
Paul Family Interactive Play Area
Attached playground

---
Isadore & Bertha Gudelsky Exceptional Swim Program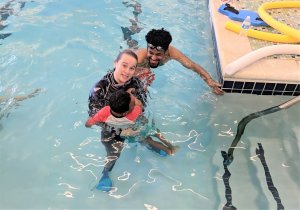 The Bender JCC offers swim classes for children, teens, and adults with physical disabilities. Learn more about the Isadore & Bertha Gudelsky Exceptional Swim Program.
Pool Safety
The Bender JCC is committed to keeping its members and visitors safe. In addition to our certified lifeguards, we require strict adherence to our pool rules. Learn about our outdoor pool rules.
Questions about aquatics at the Bender JCC? Contact us! 
---
ProAction Aquatic Physical Therapy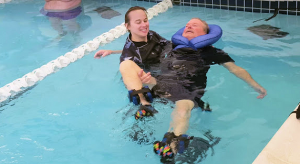 ProAction Physical Therapy offers Aquatic Therapy water for people who do not tolerate treatment 'on land'. We are one of only a few clinics in the Washington, DC area that offers this valuable service. Our Physical Therapists are expertly trained to provide therapy in the water. Take advantage of this exceptional program right here at the JCC!
Physical Therapy in the water:
Creates a safe and effective environment to exercise.
Enablespain-free strengthing, stretching, and overall mobility.
Uses hydrostatic pressure to reduce swelling.
Improves your ability to balance.
Creates the ability to move joints through greater ranges of motion.
Aquatic Physical Therapy benefits those who have:
| | |
| --- | --- |
| Neck and back pain | Arthritis |
| Fibromyalgia | Gait and balance difficulties |
| Poor conditioning/endurance | Neurological disorders |
| Joint replacements & other types of surgery | Chronic pain |
Aquatic Physical Therapy is covered by Medicare and most medical insurance plans when it is prescribed by a physician. There is no extra cost for participating in Aquatic Therapy sessions. Please call us for additional information at 301-881-CARE (301-881-2273). See you at the pool!
Want to try us out for the day? Request a guest pass!