The Bender JCC offers sports programs for all ages in a variety of sports. Whether you're new to the game or a seasoned athlete, the Bender JCC has leagues and classes for members to stay active, get fit, and explore new hobbies. More and more programs are being introduced with Covid-19 safety protocol in place.
Youth Sports & Recreation Programs
Programs run through the school year.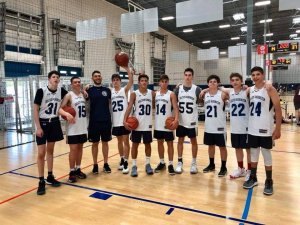 Basketball
Participants learn the fundamentals of the game, such as ball-handling, shooting, and defense.  Two levels of classes offer in-depth instruction.
---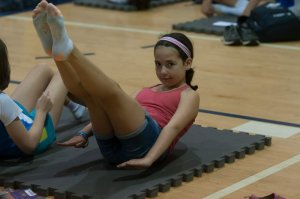 Gymnastics
Our gymnastics program helps youth develop balance, flexibility and coordination, as well as social skills including confidence and self-esteem.
---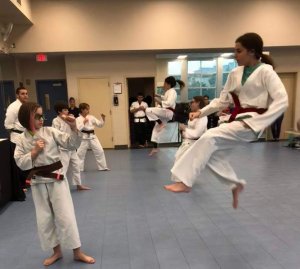 Karate
Kang's Blackbelt Academy, the Bender JCC's karate program, promotes a non-competitive lifestyle, inner balance and discipline. We offer a variety of classes for all age-ranges and ability levels.
---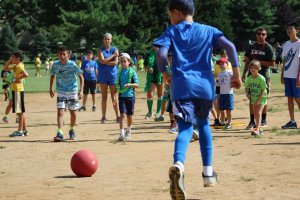 Multi-Sports
Perfect for sports fanatics, we offer a variety of multi-sports programs to keeps participants active and engaged. Activities include floor hockey, basketball, dodge ball, T-ball, tennis and more!
---
Youth Volleyball and GAGA
This introduction to volleyball is intended to take beginners or experienced youth volleyball players to the next level. Learn proper technique, skills and strategies, and participate in small-sided games. Instruction will be given by college athletes and coaches with the additional opportunity to meet and learn from professional athletes.
Gaga is a fast paced, high energy sport played in an octagonal pit. The more players the better! Dubbed a kinder gentler version of dodge ball, the game is played with a soft foam ball, and combines the skills of dodging, striking, running, and jumping, while trying to hit opponents with a ball below the knees. Players need to keep moving to avoid getting hit by the ball. Fun and easy, everyone gets a serious workout.
Register for Volleyball and GA GA
---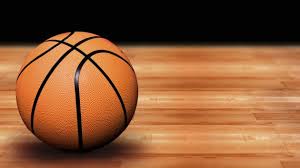 Sunday Youth Basketball Clinics
Various sports such as soccer and basketball are offered on Sundays for participants to learn sports fundamentals in a high-energy, competitive setting.  League includes game-play and instruction.  Click on the registration link to see clinics being offered at this time.
Register for Youth Basketball Clinics
---
JCC Maccabi Games & Mid-Atlantic Jr. Games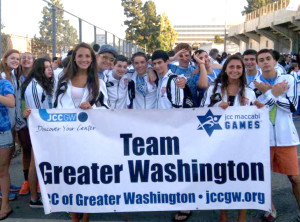 Since 1982, Jewish teens from around the world have come together for an Olympic style event filled with spirited competition and powerful comradery.  Maccabi promotes sportsmanship, community service, and religious pride.  Join the Greater Washington Team today for a Jewish teen experience filled with memories that last a lifetime. Host JCC locations change each year.
JCC Maccabi Games (ages 13-16)
A week-long event each summer. 14 sports offered.
JCC Maccabi ArtsFest (ages 13-16)
A week-long event each summer. 7 disciplines offered.
Mid-Atlantic Junior Games (ages 10-12)
A day at a regional JCC in the first weekend of May. 6 sports offered.
Adult Sports & Recreation
Softball Leagues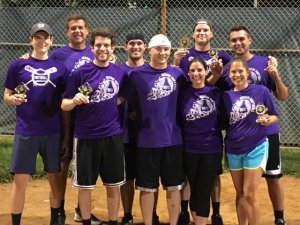 Love a good softball game? The Bender JCC offers two co-ed softball leagues (weeknight or Sunday morning). Interested in joining in? Either add your team or join the league as a free agent.
Contact Anthony Hunter, Director, Sports Programs at 301-348-3852 to be added as a free agent or for more information.
(Team registration only)
---
Catchball League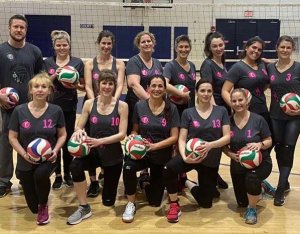 Founded in Israel, Catchball (cachibol) is a community sports league for moms, similar to volleyball.  Weekly games and various exercises incorporated into the program.  Meet other moms and build community!
---
Adult Krav Maga
Krav Maga is a self-defense system developed for the Israel Defense Forces (IDF) that consists of a wide combination of techniques sourced from aikido, judo, boxing, and wrestling, along with realistic fight training.
Krav Maga is known for its focus on real-world situations and its extreme efficiency and brutal counter-attacks. It was derived from street-fighting skills developed by Hungarian-Israeli martial artist Imi Lichtenfeld.
The Krav Maga program is taught by Israel instructors who are familiar to the "lonely warrior method".  Unlike other methods of Krav Maga in the USA, all our instructors are from Israel and possess vast military and security experience; we are "the real deal".
In our program, we focus on Krav Maga and Tactical Shooting together with Gracie Brazilian Jiu-Jitsu which allows our students to confidently face the enemy in any given situation. The step-by-step program is designed especially for beginners even without prior experience with shooting of martial arts. The school uses strict rules for personal and property safety, providing customers with an absolutely safe environment and one-on-one guidance.
---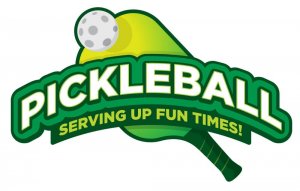 Adult Pickle Ball
$3 Member | $5 Non-Member per week
3 courts available in the Wasserman Gymnasium.
Register by contacting the Bender JCC Welcome Desk at 301-348-3800. Nets and balls provided at the desk as well upon arrival.
Contact Anthony Hunter, Director, Sports Programs at 301-348-3852 for more information.
---
Pick-Up Games: Basketball, Volleyball, Squash/Racquetball*
The Weinberg Health & Fitness Center at the Bender JCC boasts two racquetball courts, one of which is an international squash/racquetball court, and a full-size basketball court.
Open basketball:  See the most up to date Gymnasium Schedule.
VolleybalL
Squash/Racquetball. Racquetball FAQs.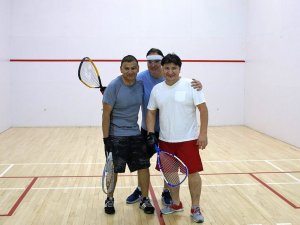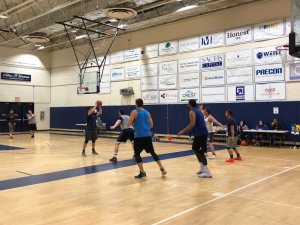 Questions about sports leagues and recreation at the Bender JCC? Contact Anthony Hunter, Director, Sports Programs at 301-348-3852. Interested in becoming a member or general questions about the Bender JCC facilities? Contact us!