The Bender JCC offers sports programs for all ages in a variety of sports. Whether you're new to the game or a seasoned athlete, the Bender JCC has leagues and classes for members to stay active, get fit, and explore new hobbies. More and more programs are being introduced with Covid-19 safety protocol in place.
Youth Sports & Recreation Programs
Looking for preschool sports? Click here
Soccer
Participants learn the fundamentals of the game, such as dribbling, passing, and shooting.  The instructor will incorporate mini-games and activities to improve these skills.
---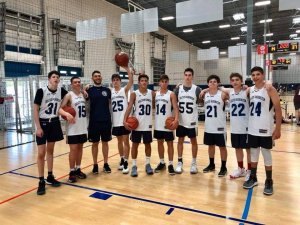 Basketball
Participants learn the fundamentals of the game, such as ball-handling, shooting, and defense.  Two levels of classes offer in-depth instruction.
---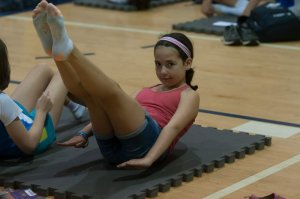 Gymnastics
Our gymnastics program helps youth develop balance, flexibility and coordination, as well as social skills including confidence and self-esteem.
---
Youth Yoga
(April2023-June2023) – Welcome to Yoga for young teens! This class is designed for kids ages 12 to 16 years old to learn foundational yoga stretches, meditation and mindfulness techniques intended to holistically strengthen their mind and body.
Participants will develop improved flexibility and strength. They will also learn stress relieving techniques that will complement their development both in school and other extracurricular activities.
---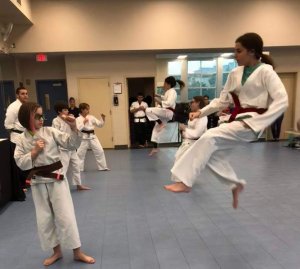 Karate
Kang's Blackbelt Academy, the Bender JCC's karate program, promotes a non-competitive lifestyle, inner balance, and discipline. We offer a variety of classes for all age ranges and ability levels.
---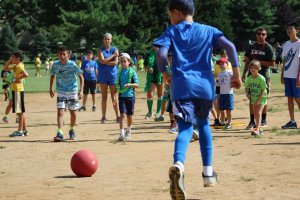 Multi-Sports
Perfect for sports fanatics, we offer a variety of multi-sports programs to keep participants active and engaged. Activities include floor hockey, basketball, dodge ball, T-ball, tennis, and more!
---
GAGA
Gaga is a fast-paced, high-energy sport played in an octagonal pit. The more players the better! Dubbed a kinder gentler version of dodge ball, the game is played with a soft foam ball, and combines the skills of dodging, striking, running, and jumping while trying to hit opponents with a ball below the knees. Players need to keep moving to avoid getting hit by the ball. Fun and easy, everyone gets a serious workout.
---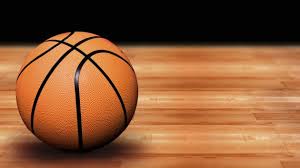 Sunday Youth Sports Clinics
Various sports such as soccer and basketball are offered on Sundays for participants to learn sports fundamentals in a high-energy, competitive setting.  League includes game-play and instruction.  Click on the registration link to see clinics being offered at this time.
Register for Youth Sports Clinics
---
JCC Maccabi Games & Mid-Atlantic Jr. Games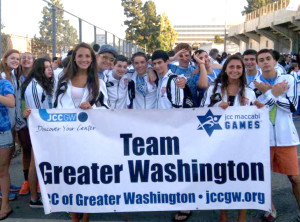 Since 1982, Jewish teens from around the world have come together for an Olympic style event filled with spirited competition and powerful comradery.  Maccabi promotes sportsmanship, community service, and religious pride.  Join the Greater Washington Team today for a Jewish teen experience filled with memories that last a lifetime. Host JCC locations change each year.
JCC Maccabi Games (ages 13-16)
A week-long event each summer. 14 sports offered.
JCC Maccabi ArtsFest (ages 13-16)
A week-long event each summer. 7 disciplines offered.
Mid-Atlantic Junior Games (ages 10-12)
A day at a regional JCC in the first weekend of May. 6 sports offered.
Adult Sports & Recreation
Sunday Softball Leagues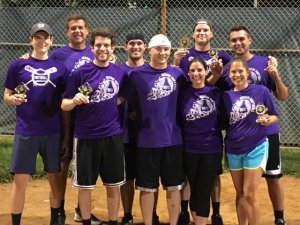 Grab your bat, step up to the plate and register for our softball league! We have divisions for various skill levels. Games will be played at 9AM & 10:30AM at county field.
Contact Kindy Diallo at 301-348-3852 to be added as a free agent or for more information.
(Team registration only)
---
Women's Catchball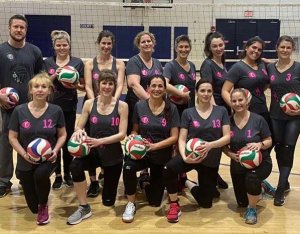 Founded in Israel, Catchball (cachibol) is a community sports league for moms, similar to volleyball.  Weekly games and various exercises are incorporated into the program.  Meet other moms and build community!
---
Adult Pickle Ball
Wednesdays | 11:00 AM – 2:00 PM
Sundays | 12:30 – 3:30 PM 
Interested in getting a good workout, playing a competitive game, or simply interacting with others? Pickleball is back at the JCC! Adults of all ages, skills, and experience can play drop-in pickleball at our center. Members play for free; non-members must pay a daily fee for entrance. Please note that there will not be an instructor present, but we plan to have classes in the spring. We have racquets and balls available, but feel free to bring your own equipment!
This registration gives access to open court pick-up play on both Wednesday and Sunday. Wednesday Pickleball takes place from 11 AM to 2 PM. Sunday Pickleball takes place from 12:30 to 3:30 PM.
Sunday, Jan 15, and Sunday, Jan 22.
---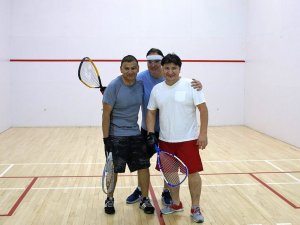 JCC Racquetball League
For each 4-month season, the league will be split into separate skill divisions. League members will then be contacted to schedule matches against all other division members for two official matches per season.   Reservations must be made, and once you are registered, the link will be provided to you.  At the end of each season, each skill division will feature a playoff tournament to crown a season champion! The JCC Racquetball League is being organized by Capital Splats Racquetball—a DC area racquetball league founded to create a friendly environment for  LGBTQ+ and Ally players. Training sessions for beginners are also available upon request.
Register for Racquetball League
---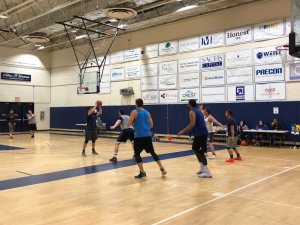 Pick-Up Games: Basketball, Volleyball, Squash/Racquetball*
The Weinberg Health & Fitness Center at the Bender JCC boasts one racquetball court and a full-size basketball court.
---
Questions about sports leagues and recreation at the Bender JCC? Contact Kindy Diallo, Director of Sports Programs at 301-348-3852. Interested in becoming a member or general questions about the Bender JCC facilities? Contact us!