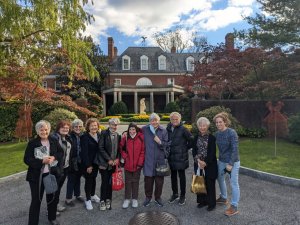 CoA Programs (Coming of Age in Maryland) offers monthly activities, excursions, and special events to members aged 60 and over. Activities include theatre and museum trips, lectures, concerts, and annual signature events such as the health and wellness expo and a New York City overnight trip. Opportunities abound for socializing, learning and entertainment. We hope you'll join us to make friends and enjoy new experiences, including:
Free CoA membership
Monthly Cinema J Film Screenings at both the JCC and Leisure World
"Food 'n' Fun" meals and games at local restaurants
Social work support from our partner, JSSA
Financial assistance for Bender JCCGW memberships for qualifying individuals
Transportation provided for excursions
For more information, contact Frieda Enoch at 301.348.3809 or fenoch@benderjccgw.org.Arts & Culture section for author discussions, gallery exhibits, and concerts sponsored by the Bender JCC.
Also visit our
Upcoming Coming of Age sponsored events
| | |
| --- | --- |
| Health & Wellness Expo | Thursday, June 1st - 10:00AM-2:00PM |
| Hallelujah: Leonard Cohen, A Journey, A Song – At the Bender JCC | Thursday, June 8th - 7:00 PM |
| Hallelujah: Leonard Cohen, A Journey, A Song – At Leisure World | Tuesday, June 13th - 1:30 PM |
| Hadestown @ The National Theater | Thursday, June 15th - 7:30 PM |
| A Tribute to Leonard Cohen | Thursday, June 22nd - 7:00 PM |
| Health & Harvest Fair | Thursday, September 28th - 10:00 AM - 2:00 PM |