Experience Musical Excellence at the Bender JCC
Polinger Artists of Excellence Concert Series
COMING SOON!!
The Bender JCC looks forward to the return of our long-running Polinger Artists of Excellence chamber music series in the spring of 2022, presenting rising stars and renowned artists that include familiar faces as well as series debuts.
Join us for magnificent chamber works from the standard canon and expand your horizons with newer offerings. Musicians perform in the Gildenhorn/Speisman Center for the Arts' intimate Kreeger Auditorium.
Artists and dates are to be announced in late 2021…
The Mount Vernon Virtuosi
The Bender JCC is pleased to resume our partnership with the Mount Vernon Virtuosi to present exciting FREE chamber orchestra programs in the Kreeger Auditorium for their 2021-2022 season. Peabody Conservatory cello faculty artist Amit Peled established this chamber orchestra in 2018 to nurture, train and support local graduate music students during their auditions period, and offering concerts all across Maryland.
This season the Mount Vernon Virtuosi will perform TWO programs on each of four Sundays. We are thrilled to present both a 45-minute Kid-Friendly Family Concert and an Adult-Oriented Chamber Music Program.
Questions about concerts at the Bender JCC? Contact us!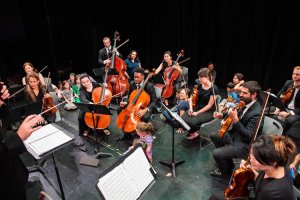 Mount Vernon Virtuosi
"Autumn Tales" Family Concert
Sunday, October 31 l 11:00 -12:00 PM (Family Show)
Sunday, October 31 | 2:00 – 3:00 PM (General Public)
For audiences of all ages
Founded in 2018 by internationally renowned cellist Amit Peled, Mount Vernon Virtuosi is a chamber orchestra based in Baltimore, Maryland. Comprised of seventeen string players, the orchestra provides a place of artistic growth for young musicians on the brink of their professional careers. The orchestra performs for audiences of all ages through exceptional performances and community engagement activities throughout the Baltimore and Washington DC region.
Beyond regular season concerts in the Baltimore/Washington area, Mount Vernon Virtuosi has toured throughout the East Coast and records exclusively for the CTM Classics recording label. The orchestra's first recording, "Mozart Live" was released in 2019.
Through the generous contributions of dedicated individuals, all regular season performances at Bender JCC, including the Family Concerts, are presented free of charge.
About the Event
"Autumn Tales" Family Concert
Sunday, October 31 l 11:00 -12:00 PM
For audiences of all ages
Musical excerpts from the film Psycho by legendary Hollywood composer Bernard Herrmann. Benjamin Britten's Simple Symphony and a movement from a Mozart quartet are also on the program.
WOLFGANG AMADEUS MOZART String Quartet no. 19 in C Major, KV 465 "Dissonance"
1st movement – Adagio-Allegro
BERNARD HERRMANN Psycho Suite for Strings
BENJAMIN BRITTEN Simple Symphony
For more information, please visit Mount Vernon Virtuosi's website.