Experience Musical Excellence at the Bender JCC
Polinger Artists of Excellence Concert Series – Welcome Back – Spring 2022
We've missed you and we're thrilled to bring glorious live chamber music back to the intimate Kreeger Theater at the Bender JCC. Join us for an exciting abbreviated season this spring. We can't wait!!
Join us for magnificent chamber works from the standard canon and expand your horizons with newer offerings. Musicians perform in the Gildenhorn/Speisman Center for the Arts' intimate Kreeger Auditorium.
Purchase Polinger Artists of Excellence Concert Tickets
The Mount Vernon Virtuosi
The Bender JCC is pleased to resume our partnership with the Mount Vernon Virtuosi to present exciting FREE chamber orchestra programs in the Kreeger Auditorium for their 2021-2022 season. Peabody Conservatory cello faculty artist Amit Peled established this chamber orchestra in 2018 to nurture, train and support local graduate music students during their auditions period, and offering concerts all across Maryland.
This season the Mount Vernon Virtuosi will perform TWO programs on each of four Sundays. We are thrilled to present both a 45-minute Kid-Friendly Family Concert and an Adult-Oriented Chamber Music Program.
Reserve Mount Vernon Virtuosi Tickets
Questions about concerts at the Bender JCC? Contact us!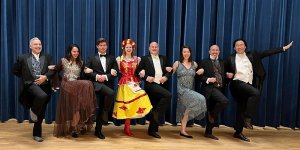 Bel Cantanti Opera Company
"Die Shone Mullerin"
Friday, May 27 | 7:30 PM
Sunday, May 29 | 3 PM
At the Bender JCC, 6125 Montrose Road, Rockville
Tickets $40
Bel Cantanti Opera presents "Die Shone Mullerin", Franz Schubert's "novel in songs," tells the story of a young man's budding love for a beautiful maid, the miller's daughter. The courtship is depicted through an innovative production of singing and dancing (The Olney ballet), and through immersive streamed images and live illustrations surrounding the actors.
The original piano accompaniment is replaced by an orchestrated arrangement by a chamber assemble to enhance the immersive experience. Our staged performance will be sung in German with projected English supertitles. Baritone, Robert McGinness performs the cycle of twenty songs. Accompanied by the chamber ensemble with BCO Artistic Director Dr. Katerina Souvorova leading at the piano.
Nature: brook, flowers, soloists – The Olney Ballet, choreographed by Erica Molina Hudak.
Live illustrations painted by Ksenya Litvak.
Light Design – Brydon Geisler.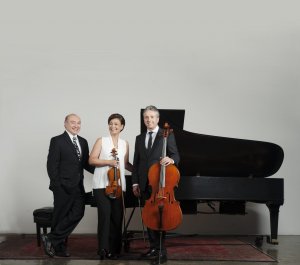 POLINGER ARTISTS OF EXCELLENCE CONCERT SERIES – WELCOME BACK! -SPRING 2022
We've missed you and we're thrilled to bring glorious live chamber music back to the intimate Kreeger Theater at the Bender JCC of Greater Washington. Join us for an exciting abbreviated season this spring. We can't wait!!
GRYPHON TRIO – Piano Trio l Sunday, June 12 | 7:00 PM |$45
BEETHOVEN Piano Trio No. 1 in E-Flat Major, Op. 1, No. 1
CLARKE Piano Trio
BRAHMS Piano Trio No. 1 in B Major, Op. 8
"Big, bold, almost orchestral performances" (Los Angeles Times)
For over 25 years, the Gryphon Trio has firmly established itself as one of the world's preeminent piano trios, garnering acclaim and impressing international audiences with its highly refined, dynamic, and memorable performances. With a repertoire that ranges from traditional to contemporary and from European classicism to modern-day multimedia, the Gryphons are committed to redefining chamber music for the 21st century.
The safety of our patrons is our highest priority. Please see our latest COVID-19 policies on our website. Proof of vaccination is required to attend.
PARKING – Free parking is available in the Bender JCC parking lot
For more information, contact Marcie Blackman at 301.348.3808 or mblackman@benderjccgw.org
Gryphon Trio website: http://www.gryphontrio.com/ Gryphon Trio
Youtube link: https://www.youtube.com/watch?v=pvm0K9uxDEM
The Polinger Artists of Excellence Series is made possible by the Gerry and Howard Polinger Concert Endowment Fund.

---
Frequently Asked Questions:
How can I register? Tickets are available through the Bender JCC Community Hub.  If you have registered for programs or classes (Canasta, Literary Programs, Cinema J, etc.) in the past 2 years this is the same system. If you have not, you will likely need to set up a new login and password through the community hub.
Can I register for all 3 concerts at one time?   Simply click on enroll for each concert, then select the attendee.
Will there be assigned seats? Yes, there are questions included in the registration process that allow you to specify your seating preference.
Can I choose specific seats?   At this time we are still observing COVID safety precautions and we will be spacing out seating as necessary. Our staff will do our best to take your request/preference into consideration.
What if I was an AOE subscriber in the past and would like my old seats? We have limited historical information on seat assignments.  We will take this into account when assigning seats for the upcoming concerts.
---
Our registration system works best using Google Chrome.