LESSANS CAMP JCC 2023 SEASON!
Aleph:  June 19, 2023 – June 23, 2023
Session 1:  June 26, 2023 – July 7, 2023
Session 2:  July 10, 2023 – July 21, 2023
Session 3:  July 24, 2023 – August 11, 2023
Bet:  August 14, 2023 – August 18, 2023
Gimmel:  August 21, 2023 – August 25, 2023
---
LESSANS CAMP JCC 2023 WILL BE HERE BEFORE YOU KNOW IT!!!!
Summer 2022 was AMAZING!!!
We are taking a bit of a break – just kidding!! We are already working on everything for Lessans Camp JCC 2023 and will post all the info soon!!
Remember you can sign up above to be notified when applications open for 2023.
Can you tell we are always excited about camp? We know our camp families are also excited about Lessans Camp JCC 2023. As we get closer to the start of camp, we know that families have many questions.  Please do not hesitate to reach out to the Camp Office at campjcc@benderjccgw.org or 301-348-3883.
---
Camp JCC is now Lessans Camp JCC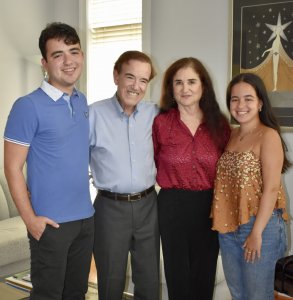 The Bender JCC of Greater Washington's Board of Directors is pleased to announce a generous legacy gift from Dr. Stuart Lessans to name Camp JCC, a Jewish summer camp that serves 500 campers of all abilities and backgrounds in the Greater Washington area.
The camp will be known as Lessans Camp JCC beginning with the 2022 camp season. The naming gift to Camp JCC will be used to support the long-term financial sustainability of camp and will allow the camp to continue investing in staff recruitment and retention, innovative programming, and facility enhancements to expand its offerings.
Josh Bender, CEO of the Bender JCC, commented, "Stuart's unbelievable generosity to support Camp JCC is a reflection of his deep commitment to Jewish community and continuity. He understands the critical role that Camp JCC plays in the Greater Washington area in creating memorable summer camp experiences for children and young adults of all backgrounds and abilities."
---
---
Summer Camp at the Bender JCC: Our Approach
Every day at Lessans Camp JCC is packed full of activities, friendship, ruach (spirit), and adventure. While our campers rave that Camp JCC is "the best place ever" we know that spending a summer at Lessans Camp JCC provides opportunities to gain valuable skills. When campers earn their deepwater bracelets, we know they are improving their swim skills while also increasing their self-esteem and confidence. When they try to cross the zip line for the first time, we know they are learning to take risks and make decisions for themselves.
Lessans Camp JCC provides programs that bring out the best in every camper and grow their abilities that they will use for the rest of their lives.
All Are Welcome
The Bender JCC embraces and welcomes the diversity of our community and encourages everyone to seek meaning and fulfillment by participating in our rich programming inspired by our Jewish heritage.
We open our doors to everyone, including people of all backgrounds, religions, abilities and sexual orientations, and interfaith couples and families.
Inclusion permeates our Center. Inclusion is belonging.