DUE TO COVID-19, J-CLUB IS CURRENTLY CLOSED. PLEASE CHECK OUR REOPENING PAGE FOR FURTHER DETAILS
The JClub babysitting (3 months – 6 years old), Tween Club (6-12 years), and Elie Ronen Scott Family Gym (18 months – 6 years) for children accompanied by their adult, offer families safe and fun care options at the Bender JCC.
J-Club
Babysitting (3 months – 6 years)
Work out or attend a Bender JCC program while your children play in a fun, safe environment! 

| | |
| --- | --- |
| Monday – Friday | 8:00 AM – 12:30 PM |
| Monday – Thursday | 4:30 – 7:30 PM |
| Saturday | 8:00 AM – 2:00 PM |
| Sunday | 8:00 AM – 1:00 PM |
J-Club Tween Club (Ages 6 – 12)
A safe, fun place to hang while the adults do their thing.  Supervised games and activities.
Saturday     8:00 AM – 2:00 PM
Sunday       8:00 AM – 1:00 PM
Unlimited Monthly Access, Members' Special: $25
Fee per hour: $4 Member /$8 Non-Member
Fee for 10-hour card: $35 Member /$65 Non-Member
Fees are per participant *
Participants may remain in Babysitting/Tween Club for no more than 2 hours per day.
Babysitting and Tween JClub Passes can be purchased at the Bender JCC Welcome Desk: membership@benderjccgw.org or 301-348-3800.
JClub Guidelines
JClub Tween Guidelines
JClub Emergency Medication Release Form
---
Family Gyms
Elie Ronen Scott Family Gym (18 months – 6 years)
Located in the Wasserman Gymnasium, the Elie Ronen Scott Family Gym and Imagination Playground features colorful climbing, sliding, and rolling toys for a parent or guardian-accompanied children. Fun for the whole family, kids and tots can tumble, crawl, slide, and climb while building strength and creating together.
Family Gyms are closed for the summer and will reopen the Sunday after Labor Day.
Sunday 9:00 AM – 12:00 PM (except when the gym is closed for special events)
Free to members.
Non-Members: $10/family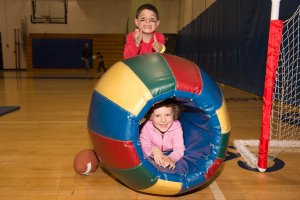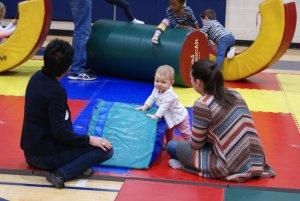 J-Club Open Play time
JClub Babysitting Room Open to Members (Ages 6 and under with caregiver over 18)
Monday – Friday 1:00 – 4:00 PM
Saturday – Sunday 2:30 – 6:00 PM
Members sign in and out at the Bender JCC Welcome Desk to gain access to JClub for open play. For your convenience, Bender JCC front desk staff will contact floor staff directly to provide you access to JClub facilities.
Participants are responsible for cleaning (supplies available in the room to wipe down toys) and placing items back in their original location. The Bender JCC reserves the right to suspend access to the facilities if the room is left unkept.
For more information, contact Ryan Grant, General Manager, Membership and Fitness at 301-348-3891.