Radically Amazed
Starts March 5, 2023 - Ends March 29, 2023
Gallery Reception | Sunday, March 5 | 4:00 – 6:00 PM | Free | Open to the public – All are welcome!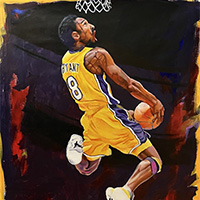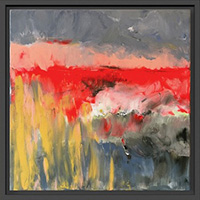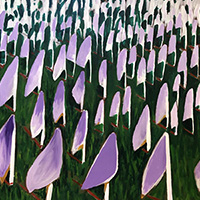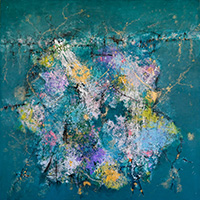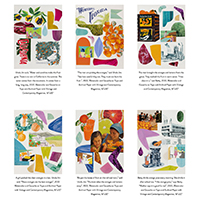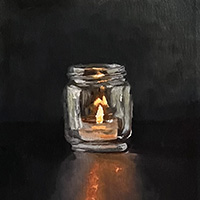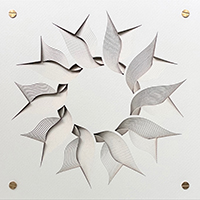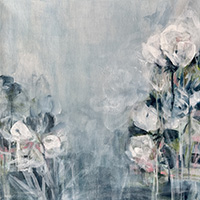 Radically Amazed presents the work of eight contemporary Jewish artists currently living and working in Maryland and Washington DC: Drew Tye Ruby-Howe, Stefanie Stark, Emily Strulson, Leslie Harris, Suzy Kopf, Ruth Becker, Nathan Silver, and Erin Friedman.   

The exhibition offers a snapshot of our current artistic practices and features over twenty-five individual works, including large and small canvases, collages, and mixed-media works.
The show's title is drawn from the writings of Rabbi Abraham Joshua Heschel, who exhorted us "to live life in radical amazement." Even as our practices and identities, as artists and as Jews, run the gamut, Heschel's approach finds currency in each of our work: As artists, we "look at the world in a way that takes nothing for granted," and cultivate and share an "authentic awareness" that "goes beyond knowledge." 
Though the style and subject-matter of our work varies, we recognize in one another's work a familiar awareness — a sense of wonderment and joy — that drives our practices and underlies the deeper content of our creative work. 
We first met at the initiative of Danielle Glosser of Client Raiser, an artist consultancy with whom we each have worked, and Mark Levitt, an art collector, enthusiast, and former Board Chair of the Jewish Federation of Greater Washington.

Invited at first to explore the intersection of our art practices and Jewish identities, we found that we enjoyed each other's company and our shared conversations. We resolved to meet several times more over the course of nearly a year, each time at a different artist's studio. By showing up together and sharing our work, we formed friendships and built community. Bolstered by these connections, and to expand upon our experience, we decided to exhibit our work together.
From the lush materiality of Erin and Drew's abstract canvases to Stefanie and Leslie's meditative, nature-inspired semi-abstract works, a sense of reverent fascination pervades our artworks: We marvel at paint's tactility and texture, as color moves across the surface of our works and light plays across landscapes. Emily's patterned paintings extend this sense of amazement through joyful repetition; and Ruth's incisive layered paperworks make use of repetition and change to generate new forms, evincing a sense of awe and amazement of their own. Meanwhile, Suzy's clever, colorful watercolor collages notice with appreciation how artists draw from their own creations to generate new work, while Nathan's light-filled paintings reverberate with joyful, irrepressible exuberance.

"To be spiritual," Rev Heschel explained, "is to be amazed." 
As it turns out, to be an artist is to be amazed, too. 
With gratitude to Danielle Glosser, Mark Levitt, Joan Danziger, Marcie Blackman, Lauren Dworkin, and the Bender JCC of Greater Washington. 
And with reverent appreciation for the teachings of Rabbi Abraham Joshua Heschel, of blessed memory, in this year of his fiftieth yahrtzeit. His legacy inspires us to experience "radical amazement" in our creative practices and as a call to do justice and love mercy in all we do.
For more information, please contact Marcie Blackman at mblackman@benderjccgw.org.