The Bender JCC wants to welcome parents raising Jewish children into our community!
Our Jewish Family Ambassadors (JFAs) goal is to help connect you with other parents in your neighborhood, to local programming, and to whatever else might interest you in the Jewish community.
As the parent of a child under the age of six, you'll have the opportunity to meet with me over coffee, or virtually if you prefer; and the chance to learn about exciting family activities that are available for your little ones where you live. Included is a JFA welcome gift tote filled with goodies. Our treat!
If you live in Montgomery County and are raising a Jewish child 5 and under, sign up here!
Meet Your Neighborhood Ambassadors!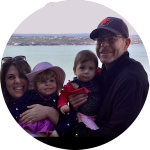 Deborah Rosenberg (JFA – Rockville Potomac)
Areas Served: North Bethesda, Rockville, Potomac
Deb grew up in Rockville and Potomac. After she graduated from the University of Massachusetts, she returned to the area! She came back to Potomac in 2016 and is excited her kids will grow up here too. She spent 20 years in retail management and is currently home with her 2 young daughters which she calls full-time fun! As a JFA, she enjoys meeting growing Jewish families and connecting them with others who live in the area and also introducing young families to all of the things our area has to offer. In her free time, she enjoys baking, skiing, and trips to the beach!
---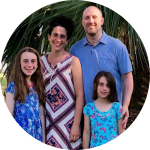 Robin Ofner (JFA – Upcounty)
Areas Served: Ashton, Brookville, Clarksburg, Damascus, Derwood, Gaithersburg, Germantown, Montgomery Village, North Potomac, Olney, Sandy Spring
Robin grew up in New York, attended the University of Rochester and Carnegie Mellon University, and soon after moved to the DC area. After first living in Rockville, she moved to Clarksburg with her husband and two daughters.  Robin and her husband own a web design business and Robin also tutors high school students in math and writing. She belongs to Temple Beth Ami in Rockville.  Robin thinks it is so important for new parents to connect with each other.  So as a family ambassador, Robin is excited to meet Jewish families in upper Montgomery County and connect them to each other. She plays the cello and is currently teaching her daughters to play.
---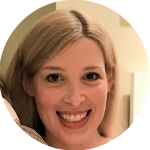 Maitland Greer (JFA – Bethesda Chevy Chase)
Areas Served: Bethesda, Cabin John, Chevy Chase, Glen Echo
Originally from New Jersey, Maitland moved to Washington, D.C. 6 years ago. Now she lives in Chevy Chase, D.C. with her husband and 2 daughters ages 5 and 3. She went to Colgate University and then moved to New York City where she worked in public affairs for media companies including Viacom/Nickelodeon and the Hearst Corporation. She also received her Masters of Media Studies from the New School. Now she is a stay-at-home mom and loves living in the D.C. area where there is such a wide variety of wonderful things to do with kids. She is an avid reader, loves to discover new restaurants, likes to ski, and to wants to spend as much time at the beach as she can! She looks forward to meeting families in the area and to help connect them with great resources.
---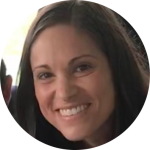 Julie Brand (JFA – Kensington, Takoma Park, Silver Spring)
Areas Served: Aspen Hill, Burtonsville, Colesville, Kensington, Spencerville, Wheaton
Julie is a lifelong Montgomery County resident. She grew up in Olney and now lives in Garrett Park with her husband and two children. After studying education at the University of Maryland, she taught elementary school in Montgomery County Public Schools for ten years. She enjoys exercising, spending time with her family, and beach trips. Now as a stay at home mom, Julie is always on the lookout for fun events, activities, and playgrounds to check out with her kids, and likes sharing that information with others!
---
For questions about the Jewish Family Ambassador initiative, please contact the J Family Programs Director Jennifer Radosh or call 301-348-3848.

SIGN UP TO MEET YOUR NEIGHBORHOOD JFA