Registration is Now Open through our New Community Portal!
If you are looking for:
Mah Jongg

Canasta

Bridge

Painting

Ceramics

Hebrew & Yiddish Classes

and Special Programs
please visit our Community Portal
Visit our Registration Page for additional information on registering for classes.
New FEATURED CLASSES

Passport J: A Virtual Tour of Jewish India
Wednesday, May 5 | 7:00 PM| $10
Namaste and Shalom! Join Rahel Musleah for an exciting (virtual) journey through Jewish India. India's Jewish heritage is a rich cultural and historical saga that stretches from biblical times until today.  Explore each of India's Jewish communities as we visit sites and synagogues in Bombay, Calcutta and Cochin.
RAHEL MUSLEAH is a New York-based award-winning journalist, author, singer, speaker and educator. Rahel is a graduate of Columbia University and the Jewish Theological Seminary of America, and was born in Calcutta, India, the seventh generation of a Calcutta Jewish family that traces its roots to 17th-century Baghdad. Through her multimedia song, story and slide program of Jewish Calcutta through Music and Memory, she shares her rare and intimate knowledge of this ancient community's history, customs and melodies with audiences at synagogues, schools, libraries, women's groups and cultural events. She is looking forward to travel opening up so she can resume taking visitors on Jewish heritage tours of India. In the meantime, she is bringing India to you!
Questions? Contact Marcie Blackman mblackman@benderjccgw.org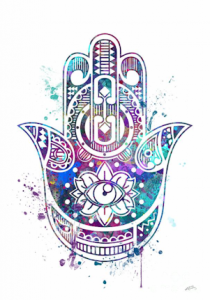 Girls Night Out: Paint & Sip
Wednesday, May 26 | 5:30 – 7:30 PM | $25
Gather your favorite ladies for an evening of wine and creativity. Join artist & mindfulness teacher, Gianna Vallefuoco, for an in-person girls' night happy hour outside at the Bender JCC!  No worries if you're not an artist. This event is for all gals. We'll sip some wine together as we're guided through a hamsa painting activity. This night is about women celebrating each other, laughing, connecting, and nurturing our creative spirits. Be prepared to let go of judgment and embrace curiosity and your inner artist. You'll be mindfully guided through setting up your acrylic paint palette and drawing your hamsa with a grid, then painting it in your own unique and fabulous style on a canvas.
The hamsa is a symbol of health, happiness, and protection against "the evil eye" or that which brings us harm. Who doesn't need a hamsa painting hanging in their house right now!
All art supplies are included in the registration fee.  Also, included with your registration are 2 drink tickets, with the option to purchase additional glasses for $5 each. Registration limited to 25 attendees in compliance with COVID-19 safety restrictions.