The Bender JCC celebrates Judaism throughout the year with a variety of holiday celebrations and observances, family and community gatherings, and festive workshops.
Center Celebrations
Center-wide and festive for the entire family, Center celebrations incorporate the entire Bender JCC community for celebrations featuring activities for all ages.
Questions about Bender JCC holiday and Center celebrations? Contact us!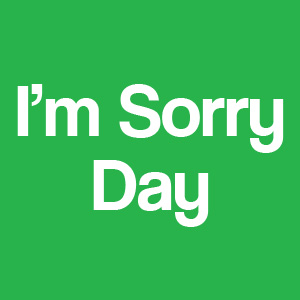 $30 Virtual Ticket + Gift Bag
Teaching your little ones to say "I'm sorry" is a great way to begin explaining the holiday of Yom Kippur. Join us virtually with early childhood music specialist Lisa Baydush for a 45-minute family-filled morning where we will explain this holiday in a tot-friendly musical way.
We will deliver interactive holiday packs to your home ahead of time!
Packs include snacks, crafts, and activities to be used during the program and beyond!
Open to all ages, ideal for kids 5 & under. This event is open to the public.
*Please note: In order to fulfill bag delivery, Registration closes firmly on September 22 @11:59pm.
**Contactless deliveries are for Montgomery County zip codes only, if we can not access your home from the outdoors, please email us and we will make arrangements.
Questions? Please contact Lauren Dworkin or at 301-348-3837.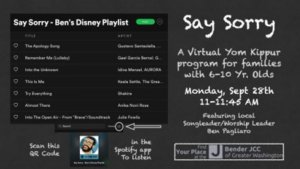 Say Sorry Day
11:00 AM
$15 Virtual Family Ticket
We think 2020 should say sorry to us, but really, it's never too late to say sorry. Join us online for our brand new interactive musical program with Songleader Ben Pagliaro. His hip-hop style and upbeat rhythms will connect you and your kids together at home with the spirit gratitude and reflection.
This program is designed for families with children ages 6-10
We will send you a Zoom link prior to the event.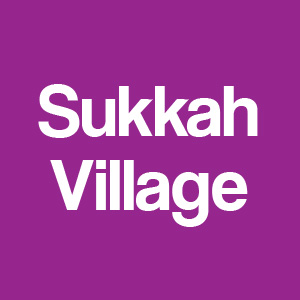 $15 per family
Want to celebrate Sukkot in a Sukkah with just your family but don't have one at home? We've got you covered (literally)!
In order to maintain a safe distance, the Bender JCC invites your family to spend an hour relaxing and bonding in one of our Sukkot, reserved just for you!
There are 2 Sukkot available per hour, 1 family, per Sukkah.
A bag of goodies to decorate the Sukkah will be waiting for your family when you arrive. Pack a blanket, chairs, and a picnic for after decorating!!
See the ticket options below for time slots.
Please note, this program is non-refundable. Also, once you pick your time slot, you are unable to change your selection.