The Bender JCC celebrates Judaism throughout the year with a variety of holiday celebrations and observances, family and community gatherings, and festive workshops.
Center Celebrations
Center-wide and festive for the entire family, Center celebrations incorporate the entire Bender JCC community for celebrations featuring activities for all ages.
Questions about Bender JCC holiday and Center celebrations? Contact us!
Join the Bender JCC, The Jewish Studio and the Bethesda Jewish Congregation for SHABOOM!
A joyful, musical welcome to Shabbat.
Bring a picnic dinner. We provide wine, water, challah, and dessert.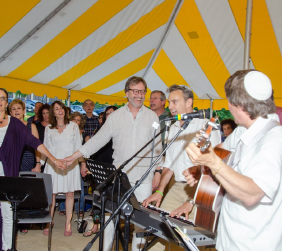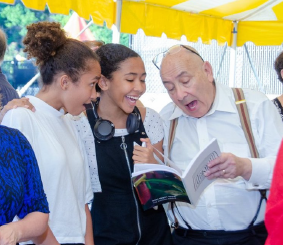 Join us at the Bender JCC to welcome Shabbat with a BANG!
Camp JCC Families are invited to Shabbat Shabbang, a program designed to create a community of new and old friends. We will share in an outdoor seasonally-inspired gourmet meat meal, then rock out to a Rick Recht concert, take silly pictures with your friends and family in a photo booth, and more!
Parents: Please be sure children are supervised at all times.
Event Cost
Before July 6
-$11  per adult
-$7 per child age 2+
-Under 2, Free
-$40 for families of five or more
After July 6
-$13 per adult
-$8 per child age 2+
-Under 2, Free
-$45 for families of five or more
Registration closes July 12
For more information, contact Jennifer Radosh at 301-348-3848 or jradosh@benderjccgw.org.