LESSANS FAMILY Literary Series
Love to read? Enjoy meaningful discussions?  The Bender JCC is thrilled to announce that we are bringing back our in-person Summer Book Club, as part of our Lessans Family Literary Series. This program will be held outdoors (weather permitting).   We are fortunate to welcome Bender JCC community member Deborah Kalb who will serve as our moderator.   It's a great way to safely gather, make new friends, and engage in interesting conversation.  All are welcome.

---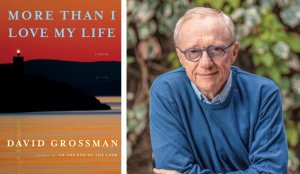 More Than I Love My Life by David Grossman
Tuesday, August 30 | 11:00 AM | Free
More Than I Love My Life is the story of three women: Vera, age ninety; her middle-aged daughter, Nina; and her granddaughter, Gili, who at thirty-nine is a filmmaker and a wary consumer of affection. A bitter secret divides each mother and daughter pair, though Gili— abandoned by Nina when she was just three—has always been close to her grandmother. With Gili making the arrangements, they travel together to Goli Otok, a barren island off the coast of Croatia, where Vera, then a young widow, was imprisoned and tortured for three years after she refused to betray her husband's memory and denounce him as an enemy of the people. This unlikely journey—filtered through the lens of Gili's camera, as she seeks to make a film that might help explain her life—lays bare the intertwining of fear, love, and mercy, and the complex overlapping demands of romantic and parental passion.

---