LESSANS FAMILY Literary Series
All year long, we will bring you the best and brightest authors and artists from around the country for special events!
---
Tuesday, April 21st
12:00 - 1:30 PM
Join the Bender JCC for our first Virtual Book Club as we read House On Endless Waters by Emuna Elon.
Please support local business and order your copy through Politics and Prose. They are offering free shipping through the end of the month.
Tuesday, April 21 | 12:00 – 1:30 PM
Bring your lunch and log into our Zoom Virtual Book Club
Moderated by Deborah Kalb
Deborah Kalb is a freelance writer and editor. She spent about two decades working as a journalist in Washington, D.C., for news organizations including Gannett News Service, Congressional Quarterly, U.S. News & World Report, and The Hill, mostly covering Congress and politics. Her book blog, Book Q&As with Deborah Kalb, which she started in 2012, features hundreds of interviews she has conducted with a wide variety of authors.
Lessans Family Literary Series Presents: A Conversation with Matthew Goodman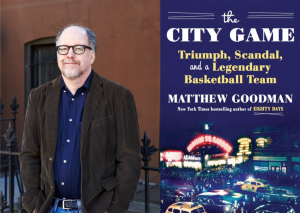 The City Game
Wednesday, June 3, 2020
6:30 | Reception
7:00 | Conversation
The powerful story of a college basketball team who carried an era's brightest hopes—racial harmony, social mobility, and the triumph of the underdog—but whose success was soon followed by a shocking downfall. Drawing on interviews with the surviving members of that championship team, Matthew Goodman has created an indelible portrait of an era of smoke-filled arenas and Borscht Belt hotels, when college basketball was far more popular than the professional game. It was a time when gangsters controlled illegal sports betting, the police were on their payroll, and everyone, it seemed, was getting rich—except for the young men who actually played the games. Tautly paced and rich with period detail, The City Game tells a story both dramatic and poignant: of political corruption, duplicity in big-time college sports, and the deeper meaning of athletic success.
Matthew Goodman is the author of three previous books of nonfiction: Eighty Days: Nellie Bly and Elizabeth Bisland's History-Making Race Around the World; The Sun and the Moon: The Remarkable True Account of Hoaxers, Showmen, Dueling Journalists, and Lunar Man-Bats in Nineteenth-Century New York; and Jewish Food: The World at Table, A New York Times bestseller.