This Month's Inspiring Story
Beloved Counselor's Memory Lives on Through Recognition Program
The nationally-recognized Camp JCC inclusion program affords campers with special needs the opportunity for a fun and fulfilling summer camp experience alongside their typically-developing siblings and friends.
The program also has a profound impact on counselors and typically-developing campers, who learn acceptance, tolerance and sensitivity. As a result, Camp JCC changes attitudes toward inclusion that extend far beyond the walls of our building.
Each year, Camp JCC recognizes its outstanding staff through the R. Andrew Helgeson Heart of Gold Recognition Program. Andrew was an exemplary young man who passed away in 2005, just prior to his high school graduation, from sudden cardiac arrest. He was a Camp JCC counselor whose kindness, warmth, joy for life and love for the campers were extraordinary.
Torie Atkin is a counselor in Kochavim, Camp JCC's transitional program for teens and young adults with a wide range of disabilities. Torie was chosen by the Camp JCC leadership team as the winner of this year's Heart of Gold award. Here are her thoughts on receiving the award: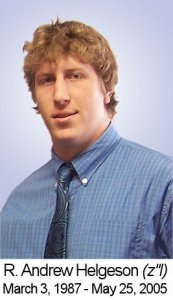 "It is an honor to receive the Heart of Gold award. This is my fifth year as a counselor and I have been hearing about Andrew Helgeson and the kind of counselor that he was for five years. It is an honor to be compared to such a kind, energetic, and caring person. This sounds cliché, but I really believe that everyone in Kochavim and the inclusion program has a heart of gold. They all give 100% of their time and energy to loving our campers. Being recognized by the leadership of the camp is a huge honor and I am so grateful."
For more information about the Camp JCC special needs and inclusion program, please contact Camp JCC Director Phil Liebson at 301.348.3880 or pliebson@benderjccgw.org.
Dinner of Champions, the Bender JCC's annual fundraiser for the Camp JCC special needs and inclusion program, will be held on Saturday, November 17. For details, please visit benderjccgw.org/champions.
---
Read Recent Stories of inspiration