This Month's Inspiring Story
The Heart of the Music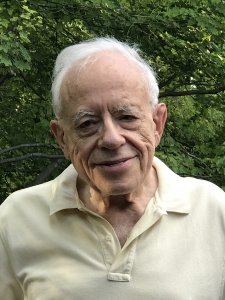 The Bender JCC's arts and cultural programming illuminates the human experience through film, music and literary events in a comfortable, welcoming and supportive atmosphere. Our Polinger Artists of Excellence Concert Series is now in its 47th season of presenting rising stars and renowned artists who delight and inspire.
With a musical background, Enoch Gordis is a regular attendee who has a special appreciation for the series.
"The concerts, in general, have been excellent, and Janet Getz [Bender JCC Music Programs Director] does a great job in planning them, with some assistance from advisors."
A New York City native and retired physician, Dr. Gordis is a graduate of the NYC High School of Music and Art, Columbia College, and the Columbia University College of Physicians and Surgeons. He worked in academic medicine for most of his career, with a specialty in alcohol abuse and alcoholism. Prior to his retirement in 2001, Dr. Gordis was director of the National Institute on Alcohol Abuse and Alcoholism at the National Institutes of Health.
Dr. Gordis and his wife, Mary Ellen Bliss, a retired lawyer, moved to the DC area from New York City in 1986, and have been attending concerts at the Bender JCC since then.
"My wife and I both have musical backgrounds," Dr. Gordis relates. "She studies clarinet and violin, and has a quartet with which she is first violin."
A lifelong serious amateur pianist, Dr. Gordis has played solo and chamber music his whole life.
"With retirement, I returned to serious piano practice and lessons," he explains. Dr. Gordis has been a performing member of the Friday Morning Music Club [a community of music lovers and musicians that promotes classical music in the Washington area] for about 16 years.
"Most of my performances are chamber music, playing piano trios, piano quartets (piano and strings), and partnering with violinists and cellists in piano and string duos.  I have also performed solo programs with the club, as well as once at Asbury Methodist Village where we have lived for two years."
With his depth of musical knowledge, Dr. Gordis listens to each performance with a critical ear, and enjoys some more than others. He often prepares reviews after concerts, and shares them with Janet.
Of all the evenings he has spent at Polinger Artists of Excellence concerts over the years, Dr. Gordis recalls a recent one vividly: "The Shanghai Quartet's performance was spectacular. They played splendidly, the ensemble was terrific, and they got to the heart of the music."
We invite everyone to join us for these special evenings that are illuminating, moving and energizing. Please visit benderjccgw.org/concerts or contact Janet Getz at 301.348.3779 or jgetz@benderjccgw.org.
 The Polinger Artists of Excellence Concert Series is made possible by the Gerry and Howard Polinger Concert Endowment Fund.
---
Read Recent Stories of inspiration