This Month's Inspiring Story
Grandparenting: The Best Thing since Sliced Challah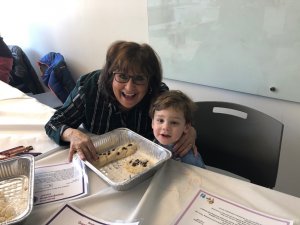 Many grandparents today are living long, healthy and active lives. They seek opportunities to spend significant time with and take on larger roles in the lives of, their grandchildren. To meet this need, the Bender JCC recently created the Bender-Dosik Grandparents Center, which is dedicated to supporting and celebrating grandparents by offering programs designed especially for them. Topics addressed in Grandparenting Center programs include: how to navigate relationships with adult children and their new family; ways to help grandchildren financially, from college planning and paying for education to gift allowances and tax implications; grandparents and grandchildren singing Jewish songs and making challah together; supporting the new parents and keeping your grandbaby safe; CPR for grandparents; and grandparenting from afar. These classes provide a way for grandparents to engage intergenerationally and with their grandparent peers. They come as caregivers for their grandchildren and as support to their adult children as they share the legacy of their experience and Jewish tradition.
Grandparents who participated this year have enjoyed making meaningful memories with their grandchildren. As one grandmother who attended the challah-making class with her grandchild reflected, "It was a very warm and loving morning, and I am looking forward to many more sessions."
Plans are in the works for upcoming Grandparents Center programs, such as classes for children who attend "grand" camps (for children who spend the summer with grandparents); "grand" playdates; and celebrating National Grandparents Day on September 8.
The Bender JCC thanks the Bender Foundation for their support of the Bender-Dosik Parenting Center. Through their generosity, we have created the Grandparents Center, a way of welcoming and engaging Jewish grandparents as they navigate their exciting and special new roles.   To learn more about Grandparent Center programs, please visit  https://www.benderjccgw.org/early-childhood/grandparents-center/
---
200 Men and Counting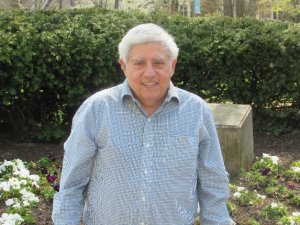 The Bender JCC is often thought of as a community of communities. Perhaps nothing illustrates that concept more clearly than our men's club, which was established in 2012 and is going strong.
Bender JCC member Lew Cohen has been active in the men's club since its formation, and serves as treasurer. A Bronx, New York native, Lew served in the US Air Force for three and a half years, and was stationed in England, Turkey and finally Biloxi, Mississippi. After his military service, Lew moved to this area in 1969 to attend the University of Maryland and earn a degree in accounting. Retired from positions as a CPA and controller, Lew volunteers at the USO at Walter Reed and is on the board of the Jewish Genealogy Society of Greater Washington.
The men's club is welcoming and informal. It started with a roster of 12-15 members, and now boasts more than 200. Held on Tuesday and Wednesday afternoons, meetings are often attended by 60-70 people (though sometimes break into smaller groups).
At the meetings, different topics ― such as politics, current events, health and finances ― are discussed. Members sometimes share personal issues or problems. But whatever the subject, the members of the group try to be respectful and learn from each other. Meetings always end with joke time, sending attendees off on an upbeat note.
Subject matter experts are invited to address the club on issues of interest on a monthly basis. With a membership that represents a wide range of professions and experiences, the club often draws upon its own members to share their expertise. Next month, for example, physician members will present a panel to discuss topics such as what it means to be a doctor, what they've learned about human nature, and the high and low points of their careers.
Excursions are another popular component of the club. Trips have been taken to many of the Smithsonian Institution museums, the Library of Congress, Antietam, Gettysburg, the Jewish Museum of Maryland in Baltimore, the National Museum of the Marine Corps at Quantico, and the Museum of the Bible. An annual outing to cheer on the Washington Nationals always draws a crowd; 42 members of the group plan to attend a game on April 28.
Smaller communities within the men's club have emerged in the form of off-shoot groups, including those focusing on investments, Yiddish language and culture, Scrabble, film and dining.
One of the most meaningful aspects of the Bender JCC men's club, according to Lew, is that several members were directly affected by the Holocaust, providing a perspective on life that is unique and profound.
Lew says that participating in the men's club has enriched his life immensely. A priority is to make others in the group feel special and comfortable. The men support each other at difficult times, and celebrate happy times together.
"There's so much camaraderie," Lew says. "We go out to lunch at various restaurants every Friday, share stories, and have such a good time."
Through the meetings, discussions, excursions and social activities, strong relationships form and friendships are forged.
"Bringing people together is what it's all about."
To learn more about the Men's Club and their programs visit: https://www.benderjccgw.org/adults/mens-club/
---
Read Recent Stories of inspiration