This Month's Inspiring Story
WALK, SWIM, BIKE!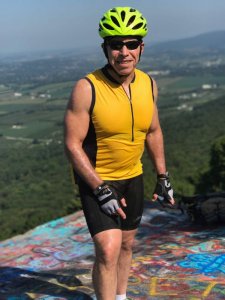 Bender JCC fitness instructors don't just walk the walk. They also swim the swim and bike the bike. And maybe most important, they demonstrate commitment, persistence, and resilience.
Raul Fainchtein, for example, teaches spin classes at the Bender JCC. He also works out here, training on the elliptical and taking classes like body pump.
Last year, Raul decided to compete in the Long Course Aquabike National Championships in Miami that were held on November 10, 2019. The race included a 1.2-mile swim and a 56-mile bike ride. His goal was to qualify for the Long Course ITU World Championship that will be held in the Netherlands this September. He began training 12-16 hours a week.
In July 2019, Raul had an accident while on a training bike ride, hitting a tree head-on. He suffered a non-displacement neck fracture and part of a finger was severed.
After being released from the hospital, Raul's neck was immobilized. The only exercise he was permitted to do was walking, so he walked seven miles each day. After 10 weeks, Raul was cleared to remove the neck collar he had been wearing and resume a normal life.
In September 2019, Raul slowly started to get back into his exercise routine. Pleased with his progress after a month, he resurrected his dream to compete at Nationals in Miami, with the goal this time just to finish. He did compete and was proud to have finished the race, though disappointed not to have finished within the first ten in his age category (60-64).
A week after the race, USA Triathlon contacted Raul to let him know that he qualified in the 65-69 age category [though he is 64, he will be 65 this year and so is eligible for that upper age group] and that, if he accepted, he would be part of the US team going to the Netherlands.
After the exhilaration of the news, the reality became daunting for Raul. The ITU race (2.38-mile swim and 112-mile bike ride) is more than twice as long as the Miami race.
Raul accepted the challenge, formed a training plan, booked his trip and bike transportation, and started training. He hopes to complete the race in just over seven hours.
The Bender JCC is fortunate to have exercise instructors like Raul who not only motivate their students in class, but also model how to live a healthy lifestyle and face challenges with a positive outlook and determination.
---
Read Recent Stories of inspiration