Interested in learning Hebrew or Yiddish—or both? The Bender JCC offers a variety of Hebrew and Yiddish classes in a supportive, fun environment through conversation, reading, and writing.
Hebrew language program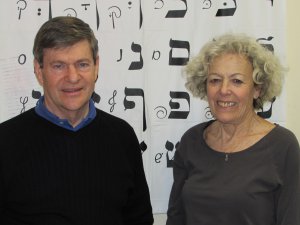 During the school year, the Bender JCC offers a variety of daytime and evening Hebrew classes, from beginner (Aleph level) to advanced (Hay level), in both Ulpan Ben Yehuda conversational Hebrew and prayer book Hebrew. Evening classes are offered in the summer.
Our instructors are the biggest draw – bringing engaging personality and decades of instructional experience in Israel and the US.  Curriculum is designed by the Israeli Ministry of Education and constantly updated by the director of the hebrew language program, Rivka Degani (301-348-3810).
Class offerings listed below:
NEW: Summer Ulpan is proud to introduce the innovative Bishvil Ha-Ivrit Language Program, used by thousands of students all over the world. This exciting curriculum employs technology that enhances and supports learning with audio recordings, interactive technology, documentary films and more.
summer Classes
Intensive Beginning Hebrew:
A fast-paced, multimedia class for students with no previous knowledge of Hebrew. By the end of the summer you will be able to read, write and conduct short conversations in Hebrew with 150 words learned in class. This program meets twice a week.
The curriculum is created by the Ministry of Education in Israel and continuously adapted by the instructor.
Teens and all ages welcome.
Dates: Mondays and Thursdays | June 17 – August 1
Time: 7:00 – 9:30 PM
Cost: $350
Code: 19954
Register for Intensive Beginning Hebrew
---
Intermediate Hebrew Level
Our unique Intermediate Hebrew Summer Program is designed to improve your Hebrew knowledge with focus on grammar and frequent vocabulary usage confusions.
In this five-week program, you will learn Hebrew through short stories, your personal stories, video clips, songs and group activities.
By the end of the program, you will be able to tell your story fluently and with improved grammar.
Dates: Tuesdays | July 2 – 30
Time: 7:00 – 9:30 PM
Cost: $150
Code: 19955
Register for Intermediate Hebrew Level
---
Advanced Hebrew Level
In this five-week program, learn Hebrew through watching and discussing the Israeli Academy Award winning 2018 TV documentary, סליחה על השאלה
Each episode focuses on a different minority group in Israeli society or a group that is considered interesting. The participants look at the camera and answer questions sent from the public and addressed to them through notes. The program is designed to offer a glimpse into the lives of communities on the margins of society and to smash stereotypes while answering questions that people are afraid to ask because they are not politically correct.
Topics covered are (subject to change):
Immigrants from the former Soviet Union
Refugees
Teenagers
Arabs
Children from gay families
The classes are conducted in Hebrew only. 
Dates: Wednesdays | July 2 – 31
Time: 7:00 – 9:30 PM
Cost: $150
Code: 19956
Register for Advanced Hebrew Level
For more information on the classes, please email Rivka Degani, Director, Hebrew Language Program or call 301-348-3810.
---
links classes

Prayer Book Hebrew Crash Course In Partnership with Links
Thursdays | June 20 – Aug 1 | 8:00 – 9:00 PM
Learn to read biblical Hebrew in just 7 hours!
LINKS provides Jews of all backgrounds with meaningful and engaging opportunities to connect with their heritage and each other through educational and social Jewish experiences.
Cost: $20 registration includes textbook
Register for Prayer Book Hebrew Crash Course
For more information please contact Rabbi Hillel Shaps or call 347.869.9361, or visit linksgw.org/classes.
---
Questions about how to register for Hebrew and Yiddish classes – or how to get involved at the Bender JCC? Contact us!