Planned Gift Options
A donor may make a planned gift to the campaign by naming the JCC of Greater Washington (JCCGW) as the beneficiary.
Bequest: You can designate a gift or portion of your estate to JCCGW and, in some cases, receive a substantial reduction in federal gift and estate taxes.
Charitable Remainder Unitrusts (CRUT) and Charitable Remainder Annuity Trusts (CRAT) makes payments to the donor or another individual named by the donor for life of for a term of years. A CRAT pays a fixed amount. A CRUT pays a percentage of the trust principal as determined annually.
Charitable Lead Trusts transfer the trust assets to JCCGW for a designated period of time. At the end of that time, the assets are returned to the donor, his or her heirs, or any other persons designated.
A Gift of Life Insurance allows the donor to make a large gift with little upfront cost. A donor may make a campaign gift of life insurance by naming JCCGW as the owner and irrevocable beneficiary of the policy.
Seymour and Sheila Herman Make a Splash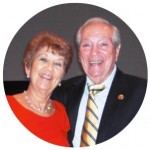 Through an extraordinary gift from Seymour (Sy) and Sheila Herman to the Centennial Capital Campaign, the new indoor aquatics center will bear their name and legacy. The aquatics area has been a special passion to the Hermans. While working at IBM in the 1970s, Sy routinely spent his lunch hour swimming laps at the JCCGW indoor pool, an activity that he is convinced has contributed to his good health and has added years to his life. In 1993, Sy and Sheila established the Seymour and Sheila Herman Aquatic Fitness Endowment Fund to help support aquatic fitness programs at the JCCGW in perpetuity. The Hermans are leaving a bequest to the JCCGW as part of their pledge commitment.
"We are creating a legacy at the JCCGW because there is no greater community organization in providing human kindness and caring for our community." – Sheila and Sy Herman
The Flora M. Stetson Legacy Society
Flora M. Stetson loved the arts. As a volunteer at the JCCGW's Goldman Art Gallery, Ms. Stetson's passion for the arts merged with her joy in being part of the Center's warm and welcoming community. Through a gift to the JCCGW in perpetuity, Ms. Stetson's legacy will have tremendous impact for generations to come.
The Flora M. Stetson Society recognizes and honors individuals and families who, in their estate plans, have created a legacy for the Center through a bequest or other planned gift.
Contact Us
Ready to set up your planned gift to the JCCGW for the Centennial Capital Campaign?
Please contact Jodi Shulimson or call 301-348-3769.