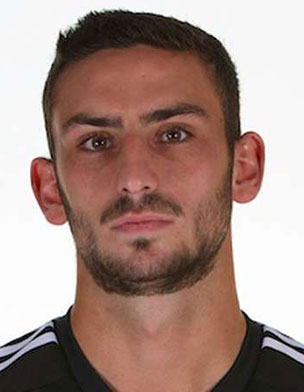 Steven Birnbaum
Sport: Soccer
Category: Athlete
Primary Team: D.C. United
Year Inducted: 2017
D.C. United defender and team captain Steve Birnbaum was acquired by the club as a second overall draft pick in the 2014 MLS SuperDraft after an outstanding college career at the University of California, Berkeley.
The Newport, California native earned a starting spot in the backline early in his rookie season. His athleticism and defensive instincts helped him become a finalist for the 2014 MLS Rookie of the Year award.
In 2016, he set career highs in starts (26), minutes (2,340), goals (3), assists (2) and shots (33) while being named to his first MLS All-Star Game. Since his acquisition, Birnbaum has made 95 appearances for the Black-and- Red, scoring five goals and recording two assists.
Birnbaum's performances for United have led to 11 appearances for the U.S. Men's National Team. He made his full debut on January 29, 2015 in a 3-2 loss against Chile. The 26-year-old's first goal for the USMNT was a game-winner against Iceland on January 31, 2016 and he also provided the game-tying assist.
D.C. United recently nominated Birnbaum for Major League Soccer's 2017 Humanitarian of the Year award for his philanthropic efforts. Inspired by Special Olympics' mission to provide athletic training and competition to children and adults with intellectual disabilities, Birnbaum became an ambassador for D.C. United's Special Olympics D.C. Unified Soccer program in 2017.