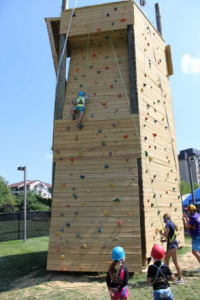 Youth Wall Climbing
Looking to test your heights? The Bender JCC's wall climbing classes allow kids ages 5-12 to test out the new climbing tower in a safe, structured environment.
Kids will learn the technical methods of climbing up a wall using proper knots, targeted movement, and their full-body strength, while under the supervision of trained and qualified instructors. Appropriate safety gear will be worn at all times. In the event of rain, kids will have the opportunity to be in the gym for free play and to learn foundational athletic skills needed across various sports.
Contact Kindy Diallo with questions.