Special Event @ the Bender JCC: Six13 Live in Concert!
December 21, 2022
7:00 PM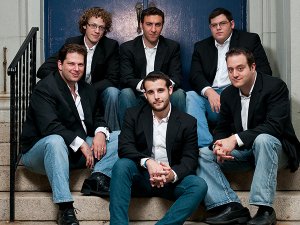 SOLD OUT!!
Special Event @ the Bender JCC: Six13 Live in Concert!
Wednesday, December 21 | 7:00 PM | $36 Location: Bender JCC – Kreeger Auditorium| 6125 Montrose Rd. Rockville, MD 20852
Join Coming of Age and Arts & Adults in lighting the menorah and celebrating the 4th night of Chanukah with music starring NY-based a cappella group Six13!
Six13 is a groundbreaking, six-man a Cappella vocal band that is bringing an unprecedented style and energy to Jewish music, with nothing but the power of the human voice. The New York City-based group is an international phenomenon both online, where their videos have been viewed over 20 million times, and in traditional media, having been featured in national television and press like The Today Show, The View, CBS, CNN, Huffington Post, Time Magazine and more. They performed at the White House for a private audience of President Barack Obama, First Lady Michelle Obama, and three Supreme Court justices (including RBG Z"L), and both Billy Joel and Bruno Mars liked Six13's Passover adaptations of their songs enough to post them on their own Facebook pages.
Don't wait, get your tickets today!
Questions? Contact us at 301-348-3832
---