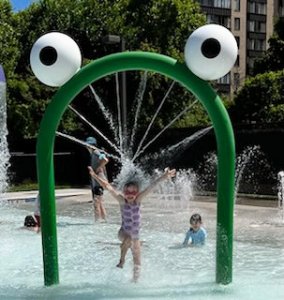 Shabbat Shabbang-SPLASH!Friday, July 22 | 5:30-7:30 PM RSVP by Thursday, July 21 at 12 PM Join us at the Bender JCC to welcome Shabbat with a BANG and a Pool Party at the Bender JCC outdoor pool!
Rabbi Eric Abbott from Bethesda Jewish Congregation will be leading Shabbat blessings and songs pool.

Shabbat Shabbang is a program for young families, designed to create a community of new and old friends. The Whole Shabbang includes challah, juice, pizza, and dessert!
Adults -$15 Child-$10 Please register each member of your family attending the program. The ticket price will adjust once you select the participant. Questions? Please contact Deb Rosenberg at drosenberg@benderjccgw.com