Reconstruction of the (Dead Sea) Temple Scroll
April 26, 2023
7:00 PM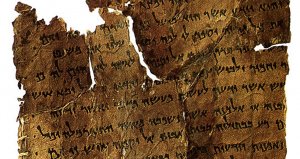 Reconstruction of the (Dead Sea) Temple Scroll
Wednesday, April 26, 2023 | 7 PM at the Social Hall of the Bender JCC
Andrew Gross, Catholic University
The Temple Scroll is the longest of all the Dead Sea Scrolls, with sixty-six columns having been preserved in its most complete exemplar.  It rewrites the Torah by, among other things, harmonizing its discussions of the festival calendar and its laws of ritual purity.  Modern scholars named the composition for its long, detailed description of the Temple precinct.
Five copies of the Temple Scroll, perhaps six, were discovered at Qumran, stemming from three different caves .The most complete manuscript was first published in 1977, and the other manuscripts, which are highly fragmentary, were published in the 1990s.
In recent years, high resolution photography has greatly improved our ability to read the ink on these scrolls and on the scroll fragments.  In addition, highly sophisticated online platforms have made these photographs very accessible and easy to use.  With this technology in hand, the time was ripe to produce a new edition of all the manuscripts of the Temple Scroll.
This presentation will briefly survey the contents of the Temple Scroll, demonstrate how this new technology has aided in producing a new edition, and explain the limitations of this technology.
The Bender JCC is located at 6125 Montrose Road / Rockville/ MD / 20852
---
The Biblical Archaeology Forum (BAF) begins its thirty-eighth year this autumn. This season we will welcome presentations from evolutionary biologist Ellen Gretak on ancient DNA, Johns Hopkins Egyptologist Betsy Bryan on the 100th anniversary of King Tut's Tomb discovery, John Ahn of the Howard University Divinity School on the Return from the Babylonian Exile, and several more events which will be listed here as the dates approach
So, please join us for a series of eight scholarly lectures on the latest archaeological research findings and related fields such as history, art, and texts of ancient times in the Near East and Eastern Mediterranean. No reservations.
Fees per lecture are (cash or check only):
free – High school students; $5 – Residents of CES Life Communities, college students, and co-sponsors; $8 – BASONOVA & Bender JCC members $10 – General public.
To subscribe to the entire 8-session lecture series for $48, or for more information, please contact BAF.JCCGW@gmail.com.