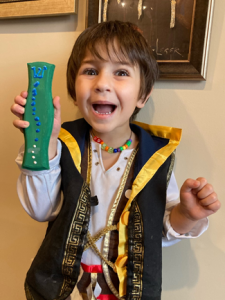 Family MyZuzah Making
Sunday, February 26 | 2:15 – 3:00 PM
Sunday, February 26 | 3:30 – 4:15 PM (Bender JCC Preschool Only)
Cost:
Child 1 $25 (includes kosher scroll & mezuzah)
Child 2 $10 (no kosher scroll, includes mezuzah)
Child 3 $10 (no kosher scroll, includes mezuzah)
Add on Kosher scroll for $45
Location: Social Hall Join the J for an exciting day of mezuzah decorating and learning!
MyZuzah will explain in a super kid-friendly way what a mezuzah is and what it is used for. MyZuzah will provide the mezuzah cases that kids decorate, and a kosher scroll for the first mezuzah case per family (valued at $90).
Kids will even get to practice parts of writing their own scroll!
We are also including a special family gym from 2 – 4 PM for participants in this program so they can play before or after their scheduled time.
If you have any questions about this program, contact Jennifer Radosh at jradosh@benderjccgw.org.
This program is made possible with the support of MyZuzah.