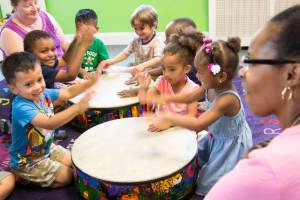 Music Together
Fridays June 17, 24 July 8, 15, 22, 29 | 9:45 – 10:30 AM
Saturdays June 18, 25 July 9, 16, 23, 30 | 9:30 – 10:15 AM
Location: Group Ex Studio C
Cost:
$185/1st child with parent or caregiver for the 6-week summer session
$135 for an additional sibling
$75 for a 3rd sibling.
$ 0 for siblings under 8 months at the time of registration with a paid 1st child.
Build on your child's natural enthusiasm for music and movement and learn the skills to support the natural process of music development. All children who are developmentally ready and adults will be required to wear masks and fill out a health screener prior to arrival.
There is a $50 nonrefundable curriculum fee.
Stay and enjoy our free Shabbat Playgroup from 10:30 – 11:00 AM on select days.
For the Saturday Outdoor option masks are optional.
You will receive a refund for instructor cancelations due to inclement weather. You will receive notification of cancellation by 7:30 AM the morning of the class.
If you have any questions about this program, contact Jennifer Radosh at jradosh@benderjccgw.org.