IN PERSON- Music Together Fall 2021
Starts September 18, 2021 - Ends November 20, 2021
10:00 AM & 10:45 AM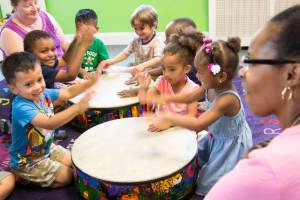 IN PERSON! Music Together Fall – CANCELLED
Saturdays September 18 – November 20
10-10:30 AM | Cost starting at $235 (Class 1)
10:45-11:15 AM | Cost starting at $235 (Class 2)
Where: Bender JCC Social Hall
Build on your child's natural enthusiasm for music and movement and learn the skills to support the natural process of music development. All participants over 2 will be required to wear masks and fill out a health screener prior to arrival.
Pricing per family depends on how many children are enrolled:
$250/1st child, $235 (member pricing)
$200/Sibling over 8 months,
$100/3rd child over 8 months.
$0/ Siblings 8 months and younger and children 6 years and older at time of registration may attend free with 1st child tuition
There is a $50 nonrefundable curriculum fee.
If you have any questions about this program, contact Lauren Dworkin at ldworkin@benderjccgw.org.