IN PERSON- Music Together
Starts January 7, 2023 - Ends March 11, 2023
Saturdays 9:00 – 9:45 AM & 10:00 - 10:45 AM
Purchase Tickets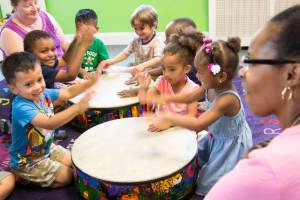 Music Together
Saturdays January 7 – March 11 | 9:00 – 9:45 AM & 10:00 – 10:45 AM | $115 – $285
Location: Parenting Center
Fridays January 6 – March 10 | Classes have been cancelled
$285 for the 1st child
$235 additional for the 1st sibling of a registered child over 8 months at the time of registration
$115 2nd sibling of a registered child over 8 months at the time of registration
siblings under 8 months or over 6 years at the time of registration may attend free but must be registered
Build on your child's natural enthusiasm for music and movement and learn the skills to support the natural process of music development.
There is a $50 nonrefundable curriculum fee.
Stay and enjoy our free Shabbat Playgroup from 10:30 – 11:00 AM on select days.
If you have any questions about this program, contact Jennifer Radosh at jradosh@benderjccgw.org.