Mosaic Of Life by Gloria Miotto
October 2, 2022
2:00 - 4:00 PM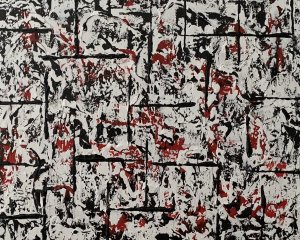 Mosaic Of Life by Gloria Miotto
Open through Sunday, November 6
Gallery Reception | Sunday, October 2 | 2:00 – 4:00 PM | Free | Open to the public – all are welcome
Mosaic Of Life Exhibit Brochure
"MOSAIC OF LIFE"
Gloria Miotto comes from a multicultural family and background. Her ancestry is a combination of many countries, such as: Italy, Portugal, Brazil, Turkey, Vietnam, and the United States.
The multiculturalism of her family and life is like a mosaic. It represents the interaction between various cultures, values, costumes, and religions. This is shown through her Mosaic of Life exhibition, which is her new solo art show. It can be found at the Goldman Art Gallery at Bender JCC of Greater Washington in Rockville from September 11th to November 6th of this year.
Mosaic of Life represents her personal story in a creative, visually impactful, and technically-crafted way. Through an impressive use of colors and patterns, it will surely stand out on display.
Gloria's Mosaic of Life is a combination of different styles, colors, and forms that aim to showcase the expression of life, human emotion, nature, and our social environments.
Gloria's Mosaic of Life exhibit is comprised of six series that complement each other in the composition of the mosaic. The six series are (i) Lines of Life Series; (ii) Weaving of Life Series I, II; (iii) Flashes of Life Series; (iv) Blue Life Series; (v) Green Life Series: and (vi) Color and Forms of Life Series.
Just as life has left its mark on Gloria, she hopes her exhibit will leave an everlasting impression on those who gaze upon it.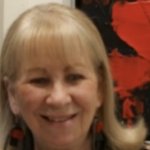 Find Gloria at:
Web: http://gloriamiottoart.com
Instagram: @gloria.miotto
Email: gloriamiottowright@gmail.com
Phone: 202-445-1159
---
About the Artist
Originally from Brazil—where Gloria first discovered her love for art—it was there that her observation of community transformed her into the abstract expressionist artist she's become today. Gloria has always enjoyed how humankinds' existence has played a part in nature and also how it affects us. These dynamic interactions have transpired onto the canvas of her work. With the themes she's selected—through color combination and through her own personal technique—she aims to show her viewers the impact of her message.
Art has always been a part of Gloria's soul despite the forty-year period where she'd stopped painting to focus on other life pursuits like raising a family and growing her career. After her retirement from her professional life, Gloria experienced a rebirth in her need to create. She rediscovered her long-lost love for art. It gave Gloria's life new color and put her on the path of producing different series of artworks.
Despite her many solo and group art shows, seminars, and workshops, Gloria had never had any formal training until only recently when she took a few courses at her local community college after entering her retirement phase of life. Until now, her only exposure to art was a few high school classes and her involvement in the "artist corner" during her university education.
Gloria enjoys challenging herself by improving the technique she has developed, as well as, creating new styles of painting with the goal of finding new ways to demonstrate interaction and integration from within her works. In the last eight years, some of her pieces have received awards. In 2018, Gloria held two solo shows: one at the Glenview Mansion Gallery with 15 paintings, and the other at the Goldman Art Gallery at Bender JCC of Greater Washington in Rockville, with 50 paintings. Currently, she belongs to the Montgomery Art Association and the Rockville Art League, where she's taken part in multiple group art shows.
People are starting to recognize her style and she has sold multiple pieces, some of which have gone on to private and corporate collections. As a friend of hers once said, "Gloria's artwork is transformative. It will awaken your wall and illuminate your soul."
For Gloria, the love of art was always in her, and she found it again.