Leadership at the Twilight of Athenian Democracy
March 8, 2023
7:00 PM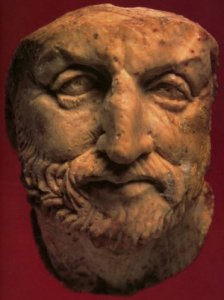 Leadership at the Twilight of Athenian Democracy
Wednesday, March 8 | 7:00 PM
Sarah Brown Ferrario, The Catholic University of America
Sponsored by the Hellenic Society Prometheas
When did the famed classical Athenian democracy actually die?  Was it with the defeat of Athens and its allies by Philip II of Macedon at the battle of Chaeronea in 338 BCE?  With the foundation of the League of Corinth? With Philip assuming hegemony over the subjected Greeks?  With Athens' loss in the Lamian War in 322?  Or even with the installation of a pro-Macedonian puppet governor for the city in 317?
All—and none—of the above.  During the lifetime of Alexander the Great and beyond, the Athenians largely maintained their traditional democratic constitution, and democracy itself was abundantly and publicly praised.  But some of Athens' most important traditions, including monument-building, funerary commemoration, and even the use of the law-courts to stage political battles, maintained their forms while changing their content to re-imagine what leadership should look like in the face of unprecedented individual power.
The lecture will begin at 7 pm in the Bender JCC Social Hall
---
The Biblical Archaeology Forum (BAF) begins its thirty-eighth year this autumn. This season we will welcome presentations from evolutionary biologist Ellen Gretak on ancient DNA, Johns Hopkins Egyptologist Betsy Bryan on the 100th anniversary of King Tut's Tomb discovery, John Ahn of the Howard University Divinity School on the Return from the Babylonian Exile, and several more events which will be listed here as the dates approach
So, please join us for a series of eight scholarly lectures on the latest archaeological research findings and related fields such as history, art, and texts of ancient times in the Near East and Eastern Mediterranean. No reservations.
Fees per lecture are (cash or check only):
free – High school students; $5 – Residents of CES Life Communities, college students, and co-sponsors; $8 – BASONOVA & Bender JCC members $10 – General public.
To subscribe to the entire 8-session lecture series for $48, or for more information, please contact BAF.JCCGW@gmail.com.