Rhythm 'N' Ruach with Auntie A: Music 'n' Yoga
Starts November 28, 2023 - Ends February 8, 2024
Purchase Tickets
Fall 2023 Session 2 – choose from two convenient class times: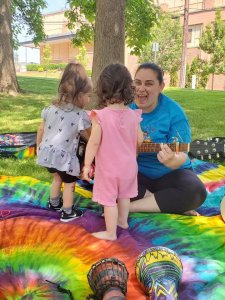 Tuesdays | November 28, 2023 – February 6, 2024 | 4:00 PM – 4:45 PM | $250/members | $260/public
Thursdays | November 30, 2023 – February 8, 2024 | 10:00 AM – 10:45 AM |  $250/members | $260/public
Skip Dates: December 26, 2023 and December 28, 2023
Research has shown that music is considered to be an anchor in keeping people connected to their cultural identity. Rhythm 'N' Ruach uses high-energy music and movement to encourage the joyfully Jewish learner. Through participation in music with real instruments, and yoga poses, Rhythm 'N' Ruach partners with Yoga Yeladim – a system based on the classical study of yoga and transforms it into an inspirational and educational experience, giving children tools to take into adulthood.jradosh@benderjccgw.org. This event is partnered with PJ Library.
This program is ideal for children from birth to 6 years old. Caregivers will be required to stay for the entirety of the program. If you have any questions, contact Jen Radosh at

---
Our registration system works best using Google Chrome.