Rhythm 'N' Ruach with Auntie A: Music 'n' Yoga
Starts March 14, 2023 - Ends May 11, 2023
Tuesdays 4:00 - 4:45 PM & Thursdays 10:00-10:45 AM
Purchase Tickets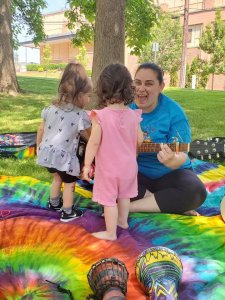 IN-PERSON Rhythm 'N' Ruach with Auntie A: Music 'n' Yoga
Tuesdays, March 14th – May 9th | 4:00 – 4:45 PM | $175/$185 (Member/non-member)
4/4 & 4/11 (skip date) (5/16 make up day)
Thursdays, March 9th – May 11th | 10:00 – 10:45 AM | $200/$210 (Member/non-member)
4/6, 4/13 (skip date) (5/18 make up day)
Contact Jennifer Radosh for drop-in and pro-rate options.
Research has shown that music is considered to be an anchor in keeping people connected to their cultural identity. Rhythm 'N' Ruach uses high-energy music and movement to encourage the joyfully Jewish learner. Through participation in music with real instruments, and yoga poses, Rhythm 'N' Ruach partners with Yoga Yeladim – a system based on the classical study of yoga and transforms it into an inspirational and educational experience, giving children tools to take into adulthood.jradosh@benderjccgw.org. This event is partnered with PJ Library.
This program is ideal for children from birth to 6 years old. Caregivers will be required to stay for the entirety of the program. If you have any questions, contact Jen Radosh at

---
Our registration system works best using Google Chrome.