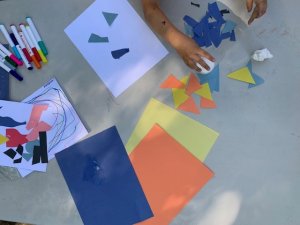 IN-PERSON Big Messy Art
Saturday, October 30th – December 11th | 10:00 – 10:30 AM
Skip day: November 27th
Cost: $120 (6 classes)
Where: Bender JCC Outdoor Gallery Patio
Big Messy Art is back in person this year! Arielle Katzel, a local art teacher, will lead your little ones through a fantastic art experience.
Each class begins with a storytime featuring a popular children's illustrator. Then we move into a caregiver-assisted art project inspired by the artist using fun family friendly materials. At the end of each class, your child will have a work of art to showcase in their home! All materials will be provided in the class.
This class is best suited for children 3 to 6 years old.
Caregivers are required to stay for the entirety of the program.
Masking OUTDOORS for children and staff is OPTIONAL when social distancing CAN be maintained.
Masking OUTDOORS for children (over 2) and staff will be MANDATORY when social distancing CANNOT be maintained.
If you have any questions, contact Jen Radosh at jradosh@benderjccgw.org.