How to Speak to Kings in Cuneiform (The Amarna Letters)
May 17, 2023
7:00 PM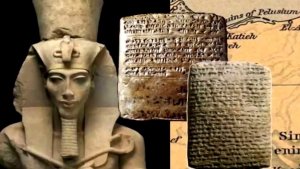 How to Speak to Kings in Cuneiform (The Amarna Letters)
Wednesday, May 17, 2023 at 7 pm at the Bender JCC
Alice Mandel, Johns Hopkins University
The Canaanite Amarna Letters are cuneiform diplomatic letters that were sent to the Egyptian royal court on behalf of Levantine rulers in the mid-14th century BCE.
While the letters present as direct communications between elites, recent developments in the study of the tablets' clays, paleography, and linguistic features offer insight into the people behind these letters: the scribes who wrote them.
Analysis of the layout, design and the linguistic and meta-discursive features in the letters are informative about scribal education and practice, but they also suggest that the scribes played an important role in diplomacy. This presentation will outline the study of the Amarna Letters, and it will highlight the creative ways that Canaanite scribes used cuneiform to reach out to their scribal peers in Egypt.
The general public is welcome to attend BAF in-person events by paying $10 at the door: cash or check only.
---
The Biblical Archaeology Forum (BAF) begins its thirty-eighth year this autumn. This season we will welcome presentations from evolutionary biologist Ellen Gretak on ancient DNA, Johns Hopkins Egyptologist Betsy Bryan on the 100th anniversary of King Tut's Tomb discovery, John Ahn of the Howard University Divinity School on the Return from the Babylonian Exile, and several more events which will be listed here as the dates approach
So, please join us for a series of eight scholarly lectures on the latest archaeological research findings and related fields such as history, art, and texts of ancient times in the Near East and Eastern Mediterranean. No reservations.
Fees per lecture are (cash or check only):
free – High school students; $5 – Residents of CES Life Communities, college students, and co-sponsors; $8 – BASONOVA & Bender JCC members $10 – General public.
To subscribe to the entire 8-session lecture series for $48, or for more information, please contact BAF.JCCGW@gmail.com.