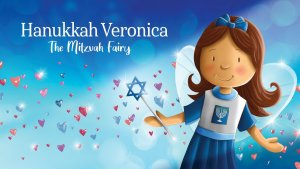 Hanukkah Party! – SOLD OUT
Monday, December 19 | 5:00 – 6:00 PM
Location: Social Hall
Cost: $5 per person
Light up your night with the Bender JCC!  The Lessans Family Literary Series presents a Hanukkah story time celebration.  Wendy Bryant, author of Hanukkah Veronica: The Mitzvah Fairy will share her story about the magic of mitzvahs.
Bender JCC's CEO Josh Bender will also lead a musical performance followed by our Center menorah lighting! Stick around and enjoy your favorite Hanukkah goodies, crafts, and hot chocolate.  This event is perfect for kids and adults of all ages.
Family gym will be available from 4:00 – 5:00 PM.  It is located in the Wasserman Gymnasium, and features colorful climbing, sliding, and rolling toys for parent or guardian-accompanied children.
Hanukkah Veronica: The Mitzvah Fairy will be available for purchase at the event.
If you have any questions, contact Jen Radosh at jradosh@benderjccgw.org.
Co-Sponsored by:


---