Coming of Age Coffeehouse: Klezmer Meets Swing!
Thursday, January 18 | 7:00 – 8:30 PM | $30 | Bender JCC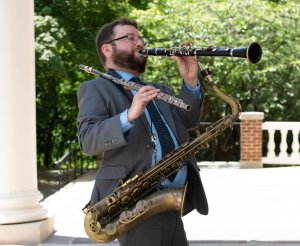 The Seth Kibel Trio will brighten your evening with a program of Jewish klezmer and classic swing, exploring the ways in which the history of these genres overlaps and intertwines. Expect lots of familiar classics from the "Great American Songbook," composed by the likes of the Brothers Gershwin, Irving Berlin, Duke Ellington, and more. Join us for an evening of toe-tapping, lively rhythms, and memorable tunes. But first, let's eat: heavy hors d'oeuvres, desserts, and wine precede the concert.