Around the World with Six Cellos
December 11, 2022
2:00 - 3:00 PM Family Concert | 4:00 - 5:00 PM General Public Concert
Free RSVP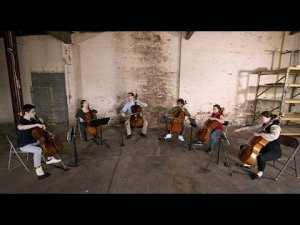 Amit Peled and the Mount Vernon Virtuosi Cello Gang
"Around the World with Six Cellos"
Program TBD
Sunday, December 11 | Free
2:00 – 3:00 PM | Family Concert
Join Amit Peled and the Mount Vernon Virtuosi Cello Gang for a 45-minute program for kids under the age of 8. All family members are welcome to attend!
4:00 – 5:00 PM | General Public Concert
"Around the World in Six Cellos" — Amit Peled and the Mount Vernon Virtuosi Cello Gang present a program of music for solo cello and cello ensemble, featuring works by Bach, Boccherini, Goltermann, and Rachmaninov.
This unique ensemble has performed recently for the Cape Cod Chamber Music Festival, the Society of Four Arts in Palm Beach, the Fairfax Symphony Orchestra, as a resident ensemble in San Miguel de Allende, Mexico, and all across Maryland, the gang's home state.
Free admission (donations gladly accepted at the door)
---
Founded in 2018 by internationally renowned cellist Amit Peled, Mount Vernon Virtuosi is a chamber orchestra based in Baltimore, Maryland. Comprised of seventeen string players, the orchestra provides a place of artistic growth for young musicians on the brink of their professional careers. The orchestra performs for audiences of all ages through exceptional performances and community engagement activities throughout the Baltimore and Washington DC region.
Beyond regular season concerts in the Baltimore/Washington area, Mount Vernon Virtuosi has toured throughout the East Coast and records exclusively for the CTM Classics recording label. The orchestra's first recording, "Mozart Live" was released in 2019.
Through the generous contributions of dedicated individuals, all regular season performances at Bender JCC, including the Family Concerts, are presented free of charge.
This season we will be offering 3 different concerts for your enjoyment.