Bagels and Business
Bagels and Business is a networking and learning opportunity for both emerging and seasoned business professionals. Events take place quarterly at the Bender JCC in Rockville starting at 7:30 AM.  The program includes time for networking followed by a moderated discussion with the presenter(s) and audience Q&A.
Past speakers have included David Trone (Total Wine & More), Marc Duber and Adam Bernstein (The Bernstein Companies), Danielle Cantor Jeweler (Falk Associates Management Enterprises), and Seth Goldman (Honest Tea).  Bagels and Business is sponsored by NFP/ Meltzer Group and is open to all.  Events are free of charge, but advance RSVPs are requested.
Event Sponsor


Event Day Schedule 
7:30 AM | Breakfast* & Networking
8:00 AM | Moderated Discussion
*Dietary laws observed
For more information, please contact Adam Tennen at atennen@benderjccgw.org or 301-348-3815
Special Guest: Founder & Chief Creative Officer, HZ | co-Founder, Dormify
The event is FREE, but space is limited.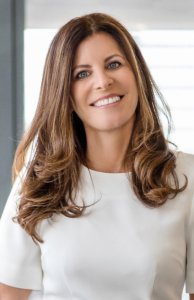 Karen leads both the creative and corporate vision of HZDG (HZ), the award-winning agency she launched from her basement in the late 1980s.  More than 30 years later, she stays true to her mantra, "Just make it cool," and has grown HZ into one of the largest, integrated creative agencies in the country.
Karen's dedication and leadership have developed a rich company culture.  The agency is known for its inspirational atmosphere—a place where creativity thrives, spontaneity is encouraged, and individual style is embraced.  At HZ, Karen combines large agency experience with the personalized attention of a boutique firm, focusing on the big idea and obsessing about the small details.
With her very first client still on the roster, Karen's emphasis on building relationships and providing personalized service has attracted high-profile clients.  Karen, along with her daughter Amanda, is also the co-Founder of Dormify, an online content and commerce brand for small space decorating.
Elana Fine, Bender JCC board member and Chief Operating Officer at VWG Wealth Management, will facilitate the discussion.
Event Sponsor


Schedule 
7:30 AM | Breakfast* & Networking
8:00 AM | Moderated Discussion
*Dietary laws observed
For more information, please contact Adam Tennen at atennen@benderjccgw.org or 301-348-3815