Recognition Program Honors the Memory of Beloved Counselor, Andrew Helgeson
Each year, Camp JCC recognizes its outstanding staff through the R. Andrew Helgeson Heart of Gold Recognition Program. Andrew was an exemplary young man who passed away in 2005, just prior to his high school graduation, from sudden cardiac arrest. His kindness, warmth, joy for life, and love for the campers at Camp JCC were remarkable.
To honor Andrew's memory, his family established the R. Andrew Helgeson Heart of Gold Recognition Program which recognizes those counselors who exhibit outstanding effort and mirror his character.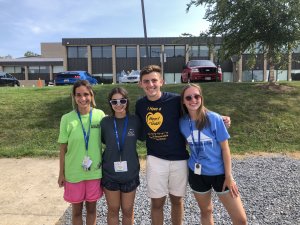 Camp JCC 2021 recipients as chosen by the Camp JCC leadership team are: Meital Lurie – Gold, Andrea Johnson – Gold, Benny Rushfield – Silver, and Dani Miller – Bronze
The following counselors were selected by their peers as winners of the Dugma (exemplary example) Award for being role models within their groups: Adom – Dov Kosowsky, Lavan – Toby Berlinski, Kachol – Angela Pablo, Kesef – Vincent Martin, Zahav – Nathaniel Thrush, Habimah – Celia Skulnik, Omanut – Eliana Lang, Maccabiah – Sarah Ben-Yosef, Kochavim – Andrea Johnson, Specialists – Joelle Goldberg
The Helgeson family has worked diligently to keep Andrew's memory alive by creating the Richard Andrew Helgeson Memorial Foundation (see below) to educate the public about sudden cardiac arrest and by supporting the Center's effort to encourage excellence in counselors.
If you would like to recognize your child's counselors, please consider making a gift in their honor to the R. Andrew Helgeson Heart of Gold Memorial Endowment Fund. This fund supports and perpetuates the R. Andrew Helgeson Heart of Gold Recognition Program for outstanding Camp JCC counselors. Each honored staff member receives a personal notification of your tribute. Donated funds are used to publicly recognize those staffers selected as most outstanding. Gifts can be made online or by contacting Jodi Shulimson at 301.348.3769 or emailing  jshulimson@benderjccgw.org. If made through our online donation please pick "Endowment Fund" in the drop-down menu and put Heart of Gold in the comments section with the counselor's name.
Richard Andrew Helgeson Memorial Foundation
Andrew passed away unexpectedly from Sudden Cardiac Arrest on May 25, 2005, at only 18 years old, just prior to his high school graduation. Andrew's family established the Richard Andrew Helgeson Memorial Foundation to raise awareness of sudden cardiac arrest (SCA) in young people. SCA has been recognized since 1954 and continues to pose a threat to our young people; still, the medical profession knows little about the causes.
The Foundation was successful in promoting and lobbying passage of a bill dubbed "Andrew's Law" that was signed by then-Governor Robert Ehrlich on April 25, 2006. Andrew's Law mandates the placement of AEDs (automated external defibrillator) in all Maryland high schools and at all school-sponsored sporting events to protect children, staff, and visitors.
In May of 2008, Governor Martin O'Malley signed a bill that he said was inspired by Andrew that was an amendment to the Good Samaritan Law which clarifies that individuals shall not be held liable for using Automated External Defibrillators (AEDs) to save victims. Governor O'Malley also declared May 25 as Sudden Cardiac Arrest Awareness Day in Maryland in honor of Andrew.
Give to the R. Andrew Helgeson Heart of Gold Memorial Endowment Fund
Message from Andrew's Father, Richard Helgeson:
"The R. Andrew Helgeson Camp JCC Heart of Gold Counselor Awards are a source of great pride for us. It is a wonderful tribute that the counselors emulate Andrew's exceptional qualities in a summer-long program. The fact that such a well-received and highly-sought award program is named in honor of Andrew is evidence to the fact that others saw in Andrew the special outstanding qualities that we, his family, always knew existed. Rita, Jennifer, and I are privileged and honored to be able to present the awards and provide financial support through an endowment fund so that they always continue. We want to thank the parents who contribute to the fund, the counselors and staff of Camp JCC, and the campers themselves who make it all worthwhile. Like Andrew said, 'I can't believe I get paid to have this much fun being a counselor.' He loved Camp JCC."
Give to the R. Andrew Helgeson Heart of Gold Memorial Endowment Fund
---
R. Andrew Helgeson "Heart of Gold" Memorial Endowment Fund for Camp JCC Counselor Awards
July 2022 tribute gifts
In memory of our son, Andrew by Rita and Richard Helgeson
In honor of Jennifer Helgeson by Rita and Richard Helgeson
In honor of Rita Helgeson by Jennifer and Richard Helgeson
In honor of Richard Helgeson by Jennifer and Rita Helgeson
In honor of Emmanuelle "Anne" Myriam Helgeson Latwin by Rita and Richard Helgeson
In honor of Raphaelle "Rae" Irys Helgeson Latwin by Rita and Richard Helgeson

Congratulations

 to Dr. Jennifer Helgeson for all her accomplishments by Rita and Richard Helgeson

Congratulations

 to LCDR Stewart Latwin for all of his accomplishments by Rita and Rita Helgeson
In remembrance of the yahrzeit on Aug 9th of Bernard Samuel Feinstein, maternal grandfather of Andrew, by Rita, Richard, and Jennifer Helgeson
In honor of Jan and Roland Peer and Family by Rita and Richard Helgeson and Jennifer Helgeson and Stewart Latwin
In honor of Judy Beardsley's birthday by Rita and Richard Helgeson and Jennifer Helgeson and Stewart Latwin
Happy 92nd birthday to Marguerite Danowski, August 1st, by Rita, Richard, and Jennifer Helgeson & family

Happy birthday

 wishes to Thomas Mitchell, Aug 6th, by Aunt Jennifer and Uncle Stew and Anne & Rae, and Aunt Rita and Uncle Richard

Happy birthday

 wishes to Chris Mitchell, August 9th, by Rita and Richard Helgeson and Jennifer and Stew Latwin & Anne & Rae
In honor of Susan Reider by Rita and Richard Helgeson and Jennifer Helgeson and Stew Latwin and Anne & Rae
Mazel Tov to Dr. Alan and Mrs. Louise Schneider on the marriage of their son Benjamin to Natasha by Rita and Richard Helgeson and Jennifer Helgeson and Stew Latwin
Mazel Tov to Deborah Wolfson and Nikhail Ratanje on their wedding on July 30, 2022, by Jennifer and Stew Latwin and family & Rita and Richard Helgeson