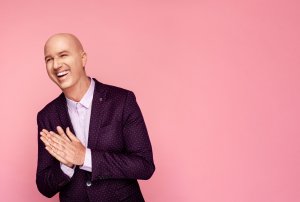 YOM HA'ATZMAUT CELEBRATION FEATURING DORON MEDALIE
The Victory of Israeli Music: From "Hallelujah" to "Toy"
Featuring Doron Medalie, World Famous Israeli Songwriter, Composer and Artistic Director
Sunday, April 18 | 11:30 AM
Join us for a special Yom Ha'atzmaut celebration featuring Doron Medalie, a key figure in the Israeli music industry, as he tells us the story of Israel, the culture and the music that put Israel on the map.
Israeli Society historically built its narrative on war and conflict, when suddenly at the end of the 70's their narrative began to change. Culturally, Israel was growing and evolving in many ways, even landing them two consecutive victories in the Eurovision song contest. How does culture reflect Israeli society and how do you create change via culture? Can culture change a narrative?
About Our Featured Speaker, DORON MEDALIE
An Israeli songwriter, composer and artistic director, Doron Medalie's song "Toy" won the Eurovision Song Contest in 2018. Throughout his career, he held senior positions in the television and music industry in Israel including Artistic Director of the Israel's "Pop Idol"; Director of the Israel's entry into the Eurovision Song Contest, Director of "Israel's Grammy Awards" and many more prominent roles. Over the years, Medalie has become one of the most successful song writers in Israel, having written over 480 songs, among them smash hits like "Tel Aviv Ya Habibi Tel Aviv", "Golden Boy", "Mahapecha Shel Simcha", and "Shevet Achim Yeachayot". He has won numerous prestigious music awards at Israel's Cultural enterprise. Medalie lives in Tel Aviv and continues to create, write and compose the soundtrack of Israel.
This program is proudly supported by the Israel Engagement Fund: A JCC Association of North America Program Accelerator, made possible by the generosity of several committed donors.
 PRESENTED BY