World's First Computer, Recovered from the Antikythera Shipwreck
April 3, 2019
8:00 PM
Guest Speaker: Daryn Lehoux | Professor of Classics at Queen's University in Ontario, Canada.
Wednesday, April 3, 2019 | 8:00 PM | Bender JCC Social Hall
Lecture Description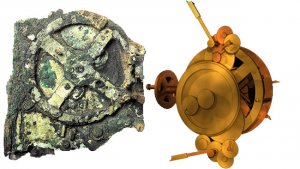 The Antikythera mechanism is one of the most remarkable technological devices from the pre-modern era. The instrument is believed to have been designed and constructed by Greek scientists; famed astronomer Hipparchus of Rhodes (190-120 BCE) may have been consulted in the machine's construction.
The shipwreck dates to circa 65 BCE, and was discovered in 1901 off the southwestern Greek island of Antikythera. The device was little studied and little understood until much later in the twentieth and even into the twenty-first century when its most important secrets began to be unveiled by advanced imaging techniques.
This lecture looks at the remarkable technological and astronomical knowledge embedded in the ancient machine, and the remarkable technological efforts that it took to uncover them in the modern era.
Reservations are not required.
Fees per lecture are:
free – high school students;
$5 – Residents of CES Life Communities, college students, and co-sponsors
$8 – BASONOVA & Bender JCC members
$10 – the general public
Pay at the door – cash or check only
For more information, please contact BAF.JCCGW@gmail.com.
Subscriptions for the BAF 2017-2018 lecture season are coming soon.