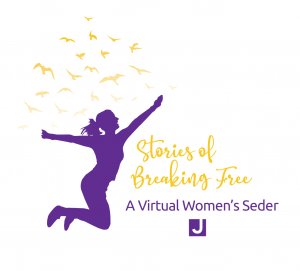 Stories of Breaking Free:  A Virtual Women's Seder
Wednesday, March 24 | 7:30 – 9:00 PM | $18
Take a modern twist on an ancient tradition with an innovative and inspirational women's seder. The Braid, a Jewish story company, will guide us through an evening of storytelling filled with food, laughs, wine, heart-opening empowered journeys of self-discovery, and connection. This event is appropriate for those who identify as female.
Register with friends and family from around the U.S.
Participating JCCs:
Bender JCC of Greater Washington | Rockville, MD

Boulder JCC | Boulder, CO
David

Posnack

 

JCC

 | Fort Lauderdale, F

L

 

J

CC

 

o

f Greater Baltimore | Baltimore, M

D

Mandell J

CC

 

o

f Greater Hartford | West Hartford, C

T

 

Pozez

 

JCC

 

o

f Northern Virginia | Fairfax, V

A

Shimon 

a

nd Sara Birnbaum J

CC

 | Bridgewater, N

J

Sid Jacobson J

CC

 | East Hill, N

Y

Siegel J

CC

 | Wilmington, D

E

Simon Family J

CC

 | Virginia Beach, V

A
About the Braid
THE BRAID, formerly Jewish Women's Theatre, creates a legacy by inspiring Jewish stories that connect us all. As the national go-to Jewish story company that pioneered a new art form called Salon Theatre, we give voice to diverse contemporary stories grounded in Jewish culture and experience that can be performed anywhere. Since 2008, our growing collection of 62 original salon theatre shows have illuminated varied themes like forgiveness, food, family, and freedom. Seminal shows newly spotlight women rabbis, Persian, Latinx, and Russian Jews, and Jews of Color. We also commissioned and produced Ovation-recommended Not That Jewish, by Monica Piper, which ran over 16 months in LA and then off-Broadway. Other hit shows include Rain Pryor's Fried Chicken & Latkes and Vicki Juditz's Ovation-recommended Sacred Resistance. We ensure the next generation has an artistic platform and community to explore and celebrate Jewish cultural heritage through our NEXT Emerging Artists program. The Braid tours across the country, and is accessible globally via Zoom performances, our podcast AudioNosh, streaming on ChaiFlicks, and other online platforms. Visit us at the-braid.org.
Cantor Melanie Blatt is a Baltimore native and currently serves as the Cantor Educator and Director of Community Engagement at Beth El Congregation, where she has worked since 2013. Cantor Blatt has a Bachelor's Degree in Fire Protection Engineering from the University of Maryland College Park with a Scholars Citation of the Arts.  She also earned a Master's Degree in Jewish Education, Leadership, and Communal Service from Baltimore Hebrew Institute at Towson University and a Master's Degree in Jewish Studies from Hebrew College, where she was ordained in 2018.
Cantor Blatt has performed for audiences all over the country including President Obama at the White House.  She loves art, music, nature, and cooking. She also has been a certified personal trainer since 2010.
The Bender JCC would like to thank Lois Alperstein for her generous support of this event.