Women Who Built the Bible
March 6, 2019
8:00 PM
Guest Speaker: Maxine Grossman | Associate Professor and Director of the Religious Studies Program at the University of Maryland
Wednesday, March 6, 2019 | 8:00 PM | Bender JCC Social Hall
Kathe Schwartzberg Memorial Lecture
Lecture Description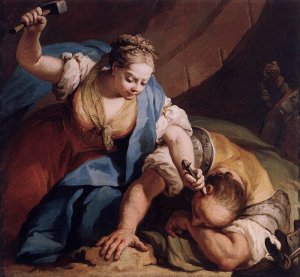 Beginning with Eve in the Garden of Eden to Lady Wisdom in the Book of Proverbs, representations of women in the Hebrew Bible demonstrate the importance of feminine images and characters in what is often designated a masculine and patriarchal culture.
Why have certain female characters and feminine images gained literary prominence in a male-centered religious tradition? What were the themes and concerns that led biblical authors to a focus on women in an ancient society that typically discounted a prominent role for women?
Attention to a wide variety of female characters and stereotypes — from the Matriarchs, the women of the Exodus, and the queens of ancient Israel to the female figures of wisdom and prophetic literature — provides opportunities to think about the women of the Bible in light of the ancient societies their stories reflect.
Reservations are not required.
Fees per lecture are:
free – high school students;
$5 – Residents of CES Life Communities, college students, and co-sponsors
$8 – BASONOVA & Bender JCC members
$10 – the general public
Pay at the door – cash or check only
For more information, please contact BAF.JCCGW@gmail.com.
Subscriptions for the BAF 2017-2018 lecture season are coming soon.