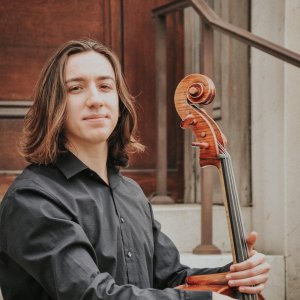 Mount Vernon Virtuosi "A Wintry Dance"
Sunday, December 12 | 2 Performances | 2:30 PM & 5:30 PM
Family Concert – Sunday, December 12 l 2:30 -3:30 PM l Free
Introduce the youngsters in your life to the magic of classical music with entertaining, educational concerts that engage and inspire. Suitable for all ages, children learn about orchestral instruments and composers while enjoying a fun afternoon of music.
General Public Sunday, December 12 l 5:30 -6:30 PM l Free
About the Event
Explore the dance-like rhythms of short works by Corelli and Holst, plus Haydn's Cello Concerto no. 2 featuring the young Spanish cellist, Jorge Gimenez.
Excerpts from:
ARCANGELO CORELLI Concerto Grosso op. 6, no. 8 "Christmas"
JOSEPH HAYDN Cello Concerto no. 2 in D Major
Jorge Giménez, cello (Mount Vernon Virtuosi Cello Competition Winner)
GUSTAV HOLST St. Paul's Suite
Please join us for a short reception following the 5:30 showing.
About Mount Vernon Virtuosi
Founded in 2018 by internationally renowned cellist Amit Peled, Mount Vernon Virtuosi is a chamber orchestra based in Baltimore, Maryland. Comprised of seventeen string players, the orchestra provides a place of artistic growth for young musicians on the brink of their professional careers. The orchestra performs for audiences of all ages through exceptional performances and community engagement activities throughout the Baltimore and Washington DC region.
Beyond regular season concerts in the Baltimore/Washington area, Mount Vernon Virtuosi has toured throughout the East Coast and records exclusively for the CTM Classics recording label. The orchestra's first recording, "Mozart Live" was released in 2019.
Through the generous contributions of dedicated individuals, all regular season performances at the Bender JCC, including the Family Concerts, are presented free of charge. For more information, please visit Mount Vernon Virtuosi's website.