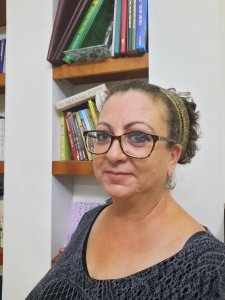 Passport J: A Virtual Tour of Ben Gurion's Desert Home
Tuesday, April 20 | 11:00 AM | $10
Please join us as we are treated to a live virtual tour from Israel of Ben-Gurion's Desert Home with tour guide Esther Suissa.  The tour of Ben-Gurion's Desert Home is a unique opportunity for an intimate and exclusive visit into the home of the Ben Gurion, the first Prime Minister of Israel. He declared the independence of the State of Israel, established the I.D.F and built the foundations of Israel and the connections between Israel and world Jewry. The tour will be approximately 45 minutes followed by a question and answer session.
Esther Suissa
Born in London, England, Esther made aliya in 1986.  She holds a BA in Jewish History and French Literature and a Master's degree in Jewish History at Hebrew University. Married to Avi and mother to 5 sabras (Asher, Yaara, David, Talia and Ariel Yehuda) and recently grandmother to one. After having lived in Dimona for 23 years, fulfilling several posts such as the Partnership 2000 director of Dimona, Yerucham and Mitzpe Ramon for the Jewish Agency and the British representative of the JIA in Dimona, she is now the Head of programs for the general public and overseas visitors at the Ben-Gurion Heritage Institute in Midreshet Ben-Gurion, next to Kibbutz Sde Boker.
Please contact Marcie Blackman mblackman@benderjccgw.org with any questions.