Virtual Lecture: America's Jewish Women: A History from Colonial Times to Today
August 4, 2020
1:30 PM
Purchase Tickets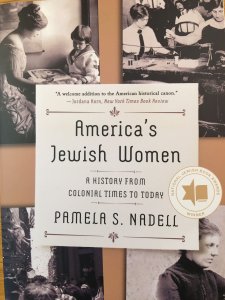 Virtual Lecture: America's Jewish Women: A History from Colonial Times to Today
Tuesday, August 4 | 1:30 PM
Cost: $8
Join us for a lively conversation about historical women who maintained their Jewish identity while making history.
America's Jewish Women uncovers what it has meant to be a Jewish woman in America by weaving together the stories of remarkable individuals—from the colonial matron Grace Nathan and her great-granddaughter, the poet Emma Lazarus, to labor activist Bessie Hillman and Supreme Court Justice Ruth Bader Ginsburg. In this groundbreaking history, we see how they and the scores of women—the wives, mothers, activists, and workers who appear in these pages—maintained their Jewish identities as they wrote themselves into American history. Defined by a strong sense of self, a resolute commitment to making the world a better place, and diverse notions of what being a Jew means, America's Jewish women left deep imprints on their families, communities and the nation they call home.
Winner of the 2019 Jewish Book of the Year Award. Dr. Pamela Nadell is the Patrick Clendenen Chair in Women's and Gender History and director of Jewish studies at American University.