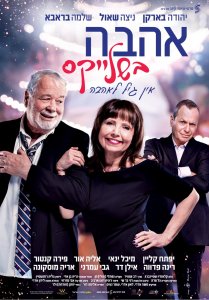 Virtual Film Discussion: Love in Suspenders
September 8 | 5:00 PM
$10 (includes screening and talkback)
Israel | Hebrew, with English subtitles | 2019 | 93 minutes | Comedy
*A link will be provided to screen this film from Sunday, September 6 – Tuesday, September 8 on your own.
Join us on Tuesday, September 8 at 5:00 PM for a post-screening discussion.
Guest speaker, Dr. Pepper Schwartz, University of Washington Professor of Sociology and Sexology, will lead the discussion.
From their first unfortunate encounter, when 64-year-old widow, Tammy hits Beno, a 70-year-old widower with her car, they experience all sorts of emotional, sometimes amusing challenges. Hoping to ensure Beno will not sue her, she tries to befriend him. Though she finds it hard to move on following her husband's death, Tami starts falling for Beno. But will their budding relationship survive the meddling of their children and others?
Audience Award for best film, "Love in Suspenders" is a heart-warming romantic comedy for the young and young at heart, reminding us that love has no age restrictions and "love conquers all."
Questions? Contact Frieda Enoch fenoch@benderjccgw.org