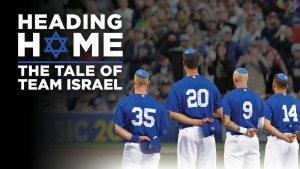 June 1- 3 | Film Screening
June 3, 8:00 PM | Zoom Discussion with co-director and producer, Seth Kramer
Cost: $5
Looking for something new to watch? We have your movie plans picked out for you! Watch the documentary film Heading Home: Tale of Team Israel between June 1 and June 3, and then join us for a moderated discussion and Q&A led by Seth Kramer, the film's co-director on June 3 at 8:00 PM. Grab a glass of wine and meet us at your couch.
A link for the film screening and a Zoom link will be provided to participants before the event.
A true-life underdog story of Israel's national baseball team competing for the first time in the World Baseball Classic. With their 'Mensch on the Bench' mascot by their side, the team discovers the pride of representing Israel on the world stage. You'll be cheering for the team they called, "the Oys of Summer."
Seth Kramer, nominated for an Emmy for Outstanding Historical Programming is the co-director and producer of "Heading Home: The Tale of Team Israel." We welcome Seth as our guest moderator for the zoom discussion following the film screening.
Questions? Contact Frieda Enoch fenoch@benderjccgw.org
Instructions on how to use the ticketing system can be found here.