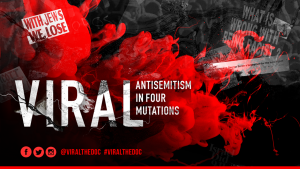 Virtual Cinema J: VIRAL: ANTISEMITISM IN FOUR MUTATIONS
Tuesday, October 20 | 5:00 PM | Cost: $10
ABOUT THE EVENT
On Friday, October 16, you'll receive a link to watch this film, on your own, anytime between 5 PM on Friday, October 16, and 10 PM on Monday, October 19. Please do not share this link with anyone outside of your household.
Then, after watching the film, join us for a post-film discussion with the Director on Tuesday, October 20 at 5 PM. A Zoom link will be provided to registrants the day before the event. Please check your spam if you have not received the link by the evening prior to the program.
English | Documentary | 2020 | 85 minutes
By virtually every yardstick, antisemitism in the US and Europe is rising and worsening in ways not seen since the 1930s. It comes in the forms of vandalism, social media abuse, assault and murder. Like a virus, it mutates and evolves across cultures, borders, and ideologies, making it all but impossible to stop. Filmmaker Andrew Goldberg explores its infectious behavior in his film "Viral: Antisemitism in Four Mutations" as he travels through four countries to speak firsthand with victims, witnesses, antisemites, and interviewees including Bill Clinton, Tony Blair, Fareed Zakaria, George Will, and Deborah Lipstadt.
This powerful and important film examines how some on the American far-right have incited such acts as the mass shooting at the Tree of Life Synagogue in Pittsburgh, PA. In Hungary, we see how the Prime Minister has launched a massive campaign against Jewish Holocaust survivor and billionaire George Soros that's reminiscent of Nazi propaganda. Moving to the far left in England, we see members of the traditionally anti-racist Labour party conflating Israel and Jews, causing tremendous pain for the Jewish community. And in France, the film illuminates the seemingly endless wave of violence against Jews by Islamists and radicals.
ABOUT THE DIRECTOR
Andrew Goldberg is an Emmy Award-winning investigative producer and director based in New York City. He has executive produced and directed 13 prime-time documentary specials for PBS and Public Television, two broadcast series (spanning 39 episodes) for HGTV, and countless long and short-form segments for such outlets as CBS News Sunday Morning, ABC News, E! Entertainment Television, Food Network, and NPR. He has written and produced for Good Morning America, NOW With David Brancaccio and National Public Radio's All Things Considered with Robert Siegel. He was previously a regular contributor to CBS News Sunday Morning's Nature segment, and Live From Lincoln Center.
He has worked with and/or interviewed multiple celebrities including Bill Clinton, Maya Angelou, Elie Wiesel, Former UK Prime Minister Tony Blair, Natalie Portman, Itzhak Perlman, Julianna Margulies, Senator Joseph Lieberman, Shaquille O'Neal, Senator Bob Dole, Michael Douglas, The President of Armenia, Julianne Moore, Yo-Yo Ma, Olympia Dukakis, Edie Falco, Kristen Bell, Laura Linney, the legendary Walter Cronkite… and many more.
Andrew has been honored with some 20 major awards including the EMMY, five CINE Golden Eagles, 10 Telly Awards, a NY Festivals Worldmedal, The Genesis Award (Guest of Honor), The St. Vartan's Award, The Joachim and Anne Humanitarian Award, and numerous others.
Questions? Contact Deborah Wilbur at dwilbur@benderjccgw.org.