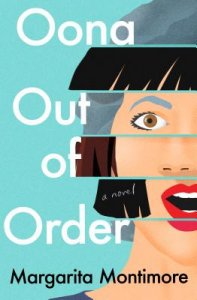 Cost: Pay what you can ($5 or Free)
11:00 AM
Grab a cup of tea, coffee, and some lunch! Join us on your couch or at your table for our third Virtual Book Club moderated by Deborah Kalb. This month we will discuss Oona Out of Order by Margarita Montimore.
Order the book through Amazon.
Or shop locally by ordering through indiebound.org
A Zoom link will be provided to participants on the morning of the event.
About the Book
"With its countless epiphanies and surprises, Oona proves difficult to put down…Oona also reminds us that life is very much in the present, not in theIn eleventh-century France, Vigdis
It's New Year's Eve 1982, and Oona Lockhart has her whole life before her. At the stroke of midnight, she will turn nineteen, and the year ahead promises to be one of consequence. Should she go to London to study economics, or remain at home in Brooklyn to pursue her passion for music and be with her boyfriend? As the countdown to the New Year begins, Oona faints and awakens thirty-two years in the future in her fifty-one-year-old body. Greeted by a friendly stranger in a beautiful house she's told is her own, Oona learns that with each passing year she will leap to another age at random. And so begins Oona Out of Order…
Hopping through decades, pop culture fads, and much-needed stock tips, Oona is still a young woman on the inside but ever-changing on the outside. Who will she be next year? Philanthropist? Club Kid? World traveler? Wife to a man she's never met? Surprising, magical, and heart-wrenching, Margarita Montimore has crafted an unforgettable story about the burdens of time, the endurance of love, and the power of family.
About the Author
MARGARITA MONTIMORE is the author of Asleep from Day and Oona Out of Order, a USA Today bestseller and Good Morning America Book Club pick. After receiving a BFA in Creative Writing from Emerson College, she worked for over a decade in publishing and social media before deciding to focus on the writing dream full-time. Born in Soviet Ukraine and raised in Brooklyn, she currently lives in New Jersey with her husband and dog.
Moderated by Deborah Kalb
Deborah Kalb is a freelance writer and editor. She spent about two decades working as a journalist in Washington, D.C., for news organizations including Gannett News Service, Congressional Quarterly, U.S. News & World Report, and The Hill, mostly covering Congress and politics. Her book blog, Book Q&As with Deborah Kalb, which she started in 2012, features hundreds of interviews she has conducted with a wide variety of authors.