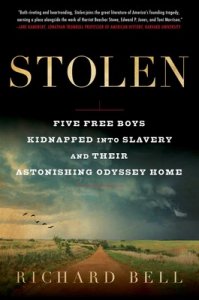 About the Event
Grab a cup tea, coffee or a glass of wine! Join us on your couch or at your table for a Virtual Author Talk, Stolen: Five Free Boys Kidnapped into Slavery and their Astonishing Odyssey Home, moderated by the author  Dr. Richard Bell.
Order the book through Simon and Schuster
A Zoom link will be provided to participants the morning of the event.
About Stolen: Five Free Boys Kidnapped into Slavery and their Astonishing Odyssey Home
A gripping and true story about five boys who were kidnapped in the North and smuggled into slavery in the Deep South—and their daring attempt to escape and bring their captors to justice, reminiscent of Twelve Years a Slave and Never Caught.
Philadelphia, 1825: five young, free black boys fall into the clutches of the most fearsome gang of kidnappers and slavers in the United States. Lured onto a small ship with the promise of food and pay, they are instead met with blindfolds, ropes, and knives. Over four long months, their kidnappers drive them overland into the Cotton Kingdom to be sold as slaves. Determined to resist, the boys form a tight brotherhood as they struggle to free themselves and find their way home.
Their ordeal—an odyssey that takes them from the Philadelphia waterfront to the marshes of Mississippi and then onward still—shines a glaring spotlight on the Reverse Underground Railroad, a black market network of human traffickers and slave traders who stole away thousands of legally free African Americans from their families in order to fuel slavery's rapid expansion in the decades before the Civil War.
Impeccably researched and breathlessly paced, Stolen tells the incredible story of five boys whose courage forever changed the fight against slavery in America.
About the Author
Dr. Richard Bell teaches Early American history at the University of Maryland. He has received several teaching prizes and major research fellowships including the National Endowment for the Humanities Public Scholar Award. His first book, We Shall Be No More: Suicide and Self-Government in the Newly United States, was published in 2012. He is also the author of Stolen: Five Free Boys Kidnapped into Slavery and Their Astonishing Odyssey Home.
—————————————–
Cost : Free
Suggested Donation: $10
During these challenging times we are pleased to continue to offer opportunities like this while the Bender JCC is closed.  If you are able to help, a donation of any amount would be deeply appreciated as we navigate this difficult period together.
By registering for this event, you are agreeing to the Bender JCC terms and conditions.
This program will be recorded so the Bender JCC can share it on our website. If you do not want your image included in this recording, please turn off your video.