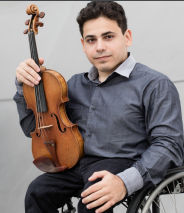 Violins of Hope: Remembrance of Music
A Special Event for Int'l Holocaust Remembrance Day
Thursday, January 27, 7:30 PM EST – Virtually via Zoom
Niv will take us on an incredible journey telling the stories behind the violins, their historical background, and about the Violins of Hope program. Musical pieces played on one of the violins, which Niv received on loan from the owners will be woven throughout the presentation. Niv is the only musician who holds one of the violins on permanent loan.
Fee: $10 Click here to register.
Featuring: Virtuoso Violinist Niv Ashkenazi, Los Angeles, CA
In Conversation with Shy Ashkenazi, Sr. Community Shaliach at the Pozez JCC of Northern Virginia
Musician's Bio:
Virtuoso violinist Niv Ashkenazi has captivated audiences with his heartfelt musicianship and emotional performances. Praised for his "extremely colorful interpretations, characterized by maturity and authority" (Pizzicato Magazine), he has made several Carnegie Hall and Kennedy Center appearances and has performed in Europe, the Middle East, and acr
oss North America. Niv holds both a B.M. and M.M. from The Juilliard School, where his teachers included Itzhak Perlman and Glenn Dicterow. Visit theJ.org to read the full bio.
Violins of Hope is an artistic and educational project composed of instruments that were owned by Jewish musicians before and during the Holocaust. Violins in the collection were played in the concentration camps and ghettos, providing a source of comfort for some, and a means of survival for others. Above all, the instruments represented strength and optimism for the future during mankind's darkest hour. Wherever there was music, there was hope.
The project was founded by Amnon Weinstein and his son Avshalom Weinstein, Israeli luthiers who collect the instruments, refurbish them to concert quality, and bring them to communities all over the world. The Violins of Hope has traveled to Jerusalem, Sion, Madrid, Maastricht, Monaco, Rome, Berlin, London, Bucharest, Dachau, Dresden, and Auschwitz. In the United States, the project has been presented in Charlotte, Cleveland, Houston, Jacksonville, Sarasota, Washington, D.C., Cincinnati, Nashville, Birmingham, Knoxville, Phoenix, Louisville, Fort Wayne, San Francisco, and Los Angeles.