Unholy Texts: Biblical Rape Narratives
July 14, 2021
8:00 PM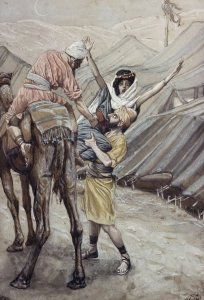 Unholy Texts: Biblical Rape Narratives
Wednesday, July 14, 2021, at 8 pm Eastern via Zoom
Carl Ehrlich, York University
The topic of rape appears a number of times in the Hebrew Bible. It is broached both explicitly and implicitly, reflected in a number of literary genres, including legal, narrative, poetic, and prophetic texts.
The violent act of rape is nowhere condoned and was a tragic fact of life in the biblical world (as it is in ours), yet it still found a place in our sacred texts. Why was this? What was the context? This lecture surveys biblical texts relating to rape in a number of these literary genres and attempts to classify the allusions to rape according to various literary, social, theological, and legal criteria.
Carl Ehrlich is Professor of Hebrew Bible at York University (Toronto)
---
BAF and its sister organization in Northern Virginia (BASONOVA), are delighted to announce a joint resumption of their lecture series on the ancient Near East and Eastern Mediterranean. This series will be broadcast "live" via Zoom, and "attendees" will be able to direct questions of the presenters.
How to Access the Lecture Series
We will announce additions to the line-up of presenters on a regular basis, as it is our aim to offer more than one event each month. Members will also receive a regular listing of recommended lectures in the public domain.
If you wish to subscribe to the series*, please access the BASONOVA PayPal portal and use a credit card for a one-year subscription ($35 per family). Go to: http://www.basonova.org/membership-form.html
It is also possible to access the series one lecture at a time, for $6 per lecture. To receive your single-lecture Zoom invitation, go to: http://www.basonova.org/next-lecture-reservation.html
*Maryland residents will be enrolled in BAF and Virginians will be enrolled in BASONOVA. There is no advantage in enrolling in one group versus the other, only that when in-person lectures begin again you will be apportioned to the group that matches your state of residence.