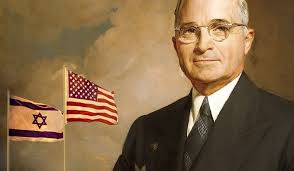 J-TALKS: HARRY TRUMAN – A FRIEND OF THE JEWS?
Wednesday, November 18 | 2:00 PM | Cost: $10
Against all odds, Israel became a state in 1948. This is the behind-the-scenes story of Harry Truman's relationship with Zionist leaders and the "founding fathers" of Israel, including Ben Gurion, Chaim Weizmann, and Ambassador Abba Eban. Their efforts to establish statehood and secure U.S. support for Israel is a tale of high political intrigue. These important friendships would cement a vital international alliance, and displayed moral courage from one of the most unlikely champions of the Jewish people.  Please welcome Robert Watson, award-winning author, professor, historian, and media analyst for this gripping lecture with Q&A.
You will receive the Zoom link one day prior to the program. Make sure to check your spam if you have not received it by the evening before the program. Please be respectful of the Bender JCC and guest speaker by not sharing this link with anyone outside your household.
Thank you – looking forward to seeing you on Zoom!