THE WONDERS OF CONEY ISLAND
January 14, 2021
Join us for a nostalgic trip to Coney Island! Highlights include a Lecture, Film with Q&A, and the option of a delicious box lunch package. Register for one or both of the individual programs, or for the Full Day Coney Island Experience! Complete details below.
SCHEDULE:
11:30 AM-12 PM – Box lunch pick up: JCC OR Leisure World Clubhouse 1 OR Clubhouse 2
2 PM-3 PM – Lecture: "Postcards from Coney Island"
5 PM-6 PM – Q&A with Filmmaker of "Famous Nathan" (film screening is open from 1/12-1/14)
FULL DAY CONEY ISLAND EXPERIENCE:
Includes a delicious box lunch, lecture, film, and post-film Q&A.
Thursday, January 14 | 11:30 AM-12 PM lunch pick-up | $30
We are happy to partner with Shalom Kosher to offer the option of a box lunch package. Simply choose the Full Day Coney Island Experience at registration along with your sandwich choice – turkey, corned beef or egg salad. The lunch includes two side salads and dessert (sorry, no substitutions). We will contact you prior to the program to get your pick-up location choice.
Pick-up locations are JCC OR Leisure World Clubhouse 1 OR Leisure World Clubhouse 2
*PLEASE NOTE: REGISTRATION FOR THE FULL DAY EXPERIENCE PACKAGE CLOSES JANUARY 7 AT 12PM.
---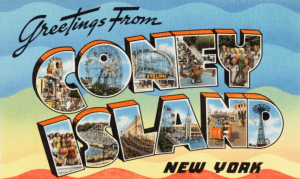 LECTURE: "Postcards from Coney Island"   
Thursday, January 14 | 2:00 PM | $10
The ocean-washed Brooklyn strand known as Coney Island is best known these days for the Nathan's Famous International Hot Dog Eating Contest (current champions: Joey Chestnut and Miki Sudo), which began in the early 1970s. But its history as a resort dates to 1829, when the first hotel, the Coney Island House, was built.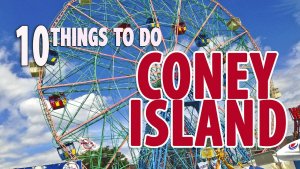 Arts journalist and former Brooklynite Richard Selden will use slides, video clips, and readings to bring several Coney Island eras to life, highlighting major attractions past and present. Highlights include Steeplechase Park, Luna Park, Dreamland, Astroland, the Wonder Wheel, the Cyclone, the Parachute Jump, the New York Aquarium, the Mermaid Parade, and the minor league baseball park. He will also touch on the challenges the destination has faced over the years, from bankruptcies and crime to failed development schemes and Hurricane Sandy.
---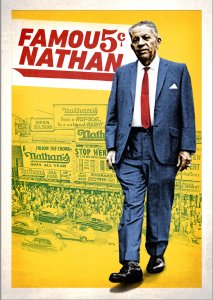 FILM: "Famous Nathan"
Film Screening: January 12 – January 14
Post-film Q&A: January 14 | 5:00 PM
$10 includes Film and Q&A with Film Director
English | 86 Minutes | 2014 | Documentary
An insider documentary directed by the grandson of Nathan Handwerker, founder of iconic Brooklyn institution Nathan's Famous, Coney Island's premier hot dog stand. Filmed over a 30-year period, the film details Nathan's upbringing in a poor village in Poland, emigration to New York, and the creating and running of Nathan's Famous for over forty years. Featuring interviews with extended family, longtime employees, and various other South Brooklyn personalities, as well as vital archival footage of Coney Island in the 20th Century, "Famous Nathan" is a kaleidoscopic and layered document capturing the honky-tonk, in-your-face spirit that was Nathan's Famous – and Brooklyn itself – in its heyday and today.
The film will be available to watch on your own from 5 PM on January 12 until 5 PM on January 14. Then, join us via Zoom for a Q&A with the Director (and grandson of Nathan!), Lloyd Handwerker on January 14 at 5 PM.
The film screening link will be emailed to registrants on January 12.
The Zoom links for the lecture and film Q&A will be emailed to registrants the evening prior to the program.
Please be respectful of the Bender JCC and do not share the film or zoom links with anyone outside of your household.
Questions? Please contact Frieda Enoch fenoch@benderjccgw.org or Deborah Wilbur dwilbur@benderjccgw.org.