J TALKS: Making Knowing: Craft in Art presented by The Whitney Museum
December 8, 2021
1:30 PM
Purchase Tickets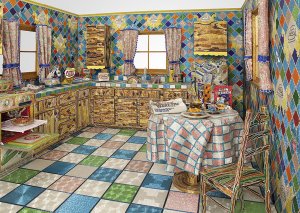 J TALKS: Making Knowing: Craft in Art presented by The Whitney Museum
Wednesday, December 8 I 1:30 PM I $10
Join us for a virtual tour of The Whitney Museum's Special Exhibit
Making Knowing: Craft in Art, 1950–2019 foregrounds how visual artists have explored the materials, methods, and strategies of craft over the past seven decades. Some expand techniques with long histories, such as weaving, sewing, or pottery, while others experiment with textiles, thread, clay, beads, and glass, among other mediums. The traces of the artists' hands-on engagement with their materials invite viewers to imagine how it might feel to make each work.
For more information on the exhibit, click here.
Drawn primarily from the Whitney's collection, the exhibition will include over eighty works by more than sixty artists, including Ruth Asawa, Eva Hesse, Mike Kelley, Liza Lou, Ree Morton, Howardena Pindell, Robert Rauschenberg, Elaine Reichek, and Lenore Tawney, as well as featuring new acquisitions by Shan Goshorn, Kahlil Robert Irving, Simone Leigh, Jordan Nassar, and Erin Jane Nelson.
Making Knowing: Craft in Art, 1950–2019 is curated by Jennie Goldstein, Assistant Curator, and Elisabeth Sherman, Assistant Curator, with Ambika Trasi, Curatorial Assistant.
"This is not your mother's craft show." —artnet News
"Making Knowing: Craft in Art, 1950–2019 casts a broad net over the museum's permanent collection and comes up with a haul of interesting connections." —Artsy
"Whitney curators Jennie Goldstein and Elisabeth Sherman have assembled a compelling argument for the importance of craft in contemporary art over the past 70 years." —Galerie
"Making Knowing is a useful and corrective survey of craft's presence in postwar U.S. art." —Mousse Magazine
"The crafted artworks in Making Knowing demonstrate the value of things handmade throughout art history. The works reconcile creative expression within broader culture, using the imagination as a voice." —CR Fashion Book
"[A] long overdue boon for any ardent supporter of this previously maligned visual field." —Architectural Digest
You will receive the link the morning of the program. We look forward to seeing you on Zoom!
Questions? Contact Lindsay Frankel lfrankel@benderjccgw.org 301-348-3807